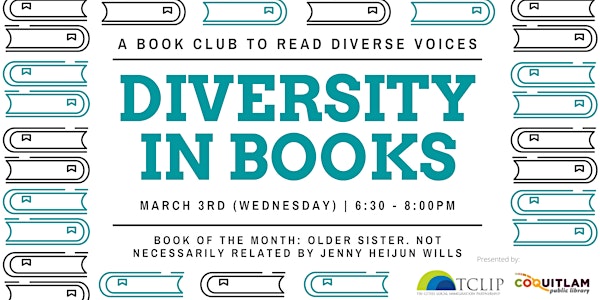 Diversity in Books: Book Club (March)
A book club to read diverse voices
About this event
On March 3rd (Wednesday) from 6:30 – 8:00 PM, we at TCLIP will host our fourth book club session for Diversity in Books - a book club to read diverse voices.
Our book of the month is Older Sister. Not Necessarily Related by Jenny Heijun Wills.
About the book:
"Delving into gender, class, racial, and ethnic complexities, as well as into the complex relationships between Korean women ⁠— sisters, mothers and daughters, grandmothers and grandchildren, aunts and nieces ⁠— Older Sister. Not Necessarily Related describes in visceral, lyrical prose the painful ripple effects that follow a child's removal from a family, and the rewards that can flow from both struggle and forgiveness."-from McClelland & Stewart in CBC
*
Diversity in Books: Book Club is open to everyone in our community and meets virtually every first Wednesday of the month. We will be discussing books on diverse voices.