Diversity in Digital Services || Diversité au sein des services numériques
Description
Speakers and facilitators include/Les conférenciers comprennent: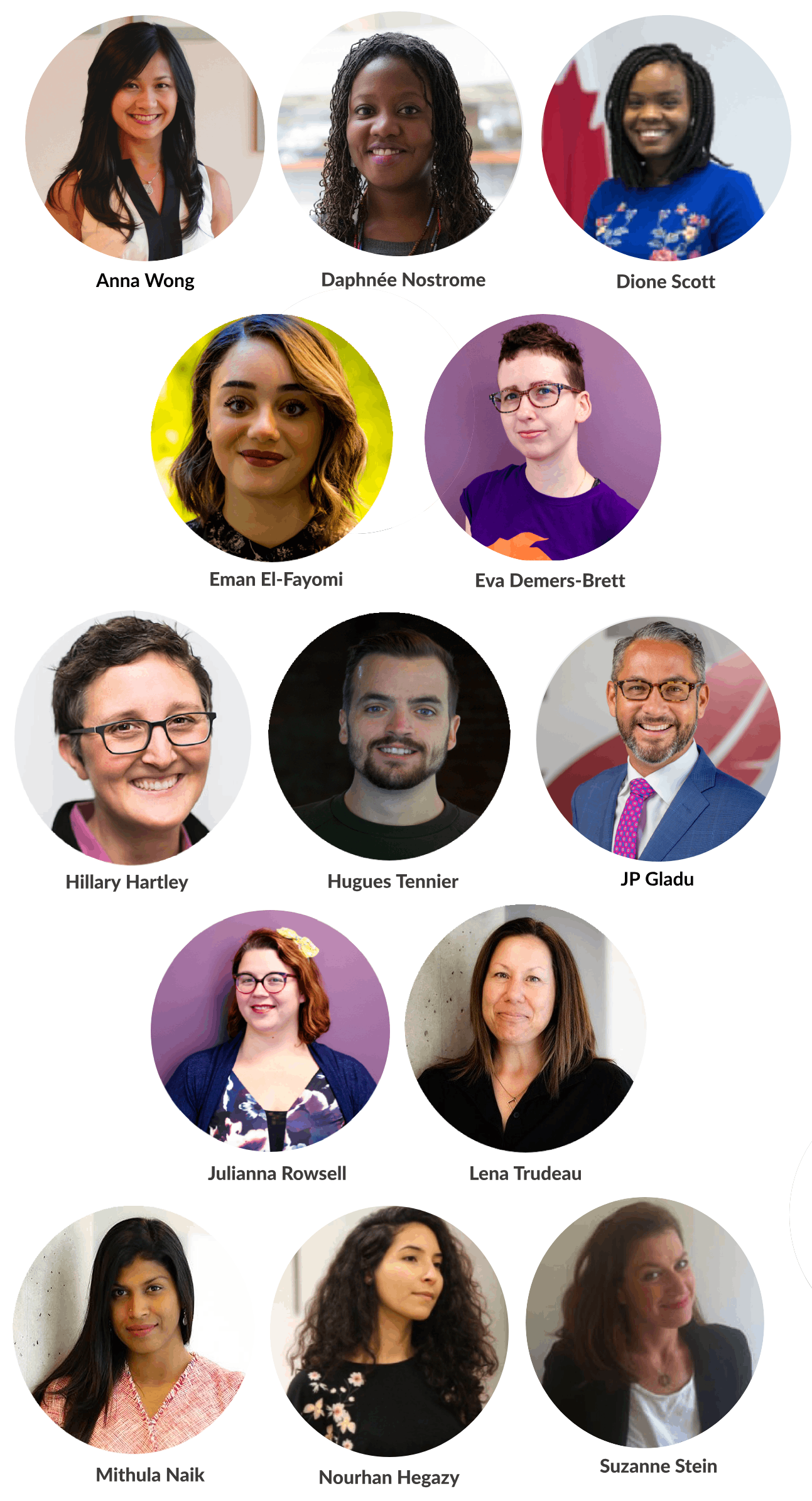 Overview
To better design and deliver services for the public, teams should be diverse and reflective of who they serve. The range of experiences that come from diverse teams help to build better services.
By having a variety of perspectives involved in designing, building, and testing products, teams mitigate the risk of creating services that overlook needs of different user groups.
Simply said, the more diverse our teams are, the better able we are to help people.
The Event
On Friday February 8, The Canadian Digital Service (CDS) is hosting a hands-on event in Ottawa at the intersection of digital, diversity, and government services.
The event will be discussion-based, using breakout sessions to unpack barriers and generate ideas around improved team diversity and inclusion, and its impact on delivering better services to a diverse public.
Together we will inspire each other and share ideas on harnessing diverse talent to create more inclusive products. The major barriers, themes, and ideas that come from these discussions will be curated and shared.
Who should attend
You should attend if you are engaged in digital service delivery and have a keen interest in participating in discussions on diversity & inclusion. Post-secondary students, public sector, and private sector participants are welcome! Please Note: In an effort to have a well-rounded attendee list, a limited number of tickets are available based on sector.
We particularly encourage participation from folks who identify as a person of colour, Indigenous, women, non-binary, trans, queer and/or a person with disabilities. Please contact Julie-Ann.Rowsell@tbs-sct.gc.ca if you require accommodations.
Agenda:
8:30 Registration
9:00 Welcome & Opening Remarks
9:20 Lightning Talk A -- Creating Diverse Digital Teams
JP Gladu, President and CEO, Canadian Council for Aboriginal Business
9:30 Discussion Breakout Sessions A (concurrent)
Better representation in leadership

Job descriptions that resonate with everyone

Authentic recruiting practices

Attracting talent beyond borders

Strategies for leadership buy-in
10:40 Lightning Talk B -- A Culture of Inclusion in Digital
Hillary Hartley, Chief Digital Officer and Deputy Minister Consumer Services, Ministry of Government and Consumer Services, Government of Ontario
10:50 Discussion Breakout Sessions B (concurrent)
Emotional inclusion and team trust

Leadership's role in creating safe & productive environments

Language/ESL inclusion

Arrangements for fair work-life balance

Aligning teams with different working styles


11:50 Light Lunch (Cafeteria on site)
12:50 Lightning Talk C -- Creating Usable and Accessible Digital Services
1:00 Discussion Breakout Sessions C (concurrent)
Acknowledging and addressing team bias in delivery work

Accessibility first, better services for all

Designing for equity

User testing with diverse groups

Ideas for training, learning, and mentoring
2:10 Lightning Talk D -- Impact of Empathy
Suzanne Stein, Associate Professor, Faculty of Design, OCAD University
2:25 Discussion Breakout Sessions D (concurrent)
Selected and voted on by participants during the day
3:30 Facilitator Panel Discussion -- Bringing it Together
4:45 Closing Remarks
-------
Aperçu
Les équipes qui conçoivent et offrent des services au public devraient être diversifiées et être à l'image de la population qu'elles servent. L'éventail d'expériences provenant d'équipes diversifiées contribue à l'amélioration des services.

En adoptant divers points de vue dans la conception, l'élaboration et la mise à l'essai des produits, les équipes réduisent le risque de créer des services qui ne tiennent pas compte des besoins des différents groupes d'utilisateurs. En termes simples, plus nos équipes sont diversifiées, plus nous sommes en mesure d'aider les gens.
L'événement
Le vendredi 8 février, le Service numérique canadien (SNC) organise une activité pratique à Ottawa, à l'intersection du numérique, de la diversité et des services gouvernementaux.
L'événement, sous forme de séances en petits groupes, sera axé sur la discussion pour trouver les obstacles à l'amélioration de la diversité et de l'inclusion des équipes, trouver des idées connexes de même que son impact sur la prestation de meilleurs services à un public diversifié.

Ensemble, nous nous inspirerons les uns les autres et échangerons des idées pour attirer, retenir et exploiter divers talents afin de créer des produits plus inclusifs. Les principaux obstacles, thèmes et idées découlant de ces discussions seront organisés et partagés publiquement.


Qui devrait y assister?
Vous devriez y assister si vous participez à la prestation de services numériques et que vous souhaitez participer aux discussions sur la diversité et l'inclusion. Les étudiants de niveau postsecondaire et les participants des secteurs public et privé sont les bienvenus. Remarque : Afin d'avoir une liste complète de participants, un nombre limité de billets sont disponibles selon le secteur.
Nous encourageons particulièrement la participation des gens qui s'identifient comme des personnes de couleur, des Autochtones, des femmes, des personnes non binaires, des transsexuels, des personnes de genre queer et/ou des personnes ayant un handicap. Si'l y a des considérations d'accessibilité dont nous devrions être conscients, contactez Julie-Ann.Rowsell@tbs-sct.gc.ca.
Ordre du jour:
9 h Accueil et remarques de bienvenue
9 h 20 Conférence éclair A -- Création d'équipes numériques diversifiées
JP Gladu, Dirigeant principal, Canadian Council for Aboriginal Business
9 h 30 Séances en petits groupes A (simultanées)
Meilleure représentativité du leadership

Descriptions de poste qui interpellent tout le monde

Pratiques de recrutement authentiques

Attirer des talents au-delà des frontières

Stratégies d'adhésion des dirigeants
10 h 40 Conférence éclair B -- Une culture d'inclusion dans le numérique
Hillary Hartley, Directeur du numérique et sous-ministre des Services aux consommateurs, Services gouvernementaux et Services aux consommateurs, gouvernement de l'Ontario
10 h 50 Séances en petits groupes B (simultanées)
Intégration émotionnelle et confiance de l'équipe

Rôle du leadership dans la création d'environnements sécuritaires et productifs

Inclusion de l'anglais comme langue seconde

Arrangements pour un équilibre travail-vie équitable

Harmonisation des équipes en fonction de différents styles de travail
11 h 50 Déjeuner Léger (cafétéria disponible)
12 h 50 Conférence éclair C -- Création de services numériques utilisables et
Accessibles
13 h Séances en petits groupes C (simultanées)
Reconnaître et régler les préjugés de l'équipe dans le cadre du travail de prestation

L'accessibilité d'abord, de meilleurs services pour tous

Une conception fondée sur l'équité

Tester avec des utilisateurs de divers groupes

Idées de formation, d'apprentissage et de mentorat
14 h 10 Conférence éclair D -- L'empathie
Suzanne Stein, Professeure associée, Faculté de design, OCAD University
14 h 25 Séances en petits groupes D (simultanées)
15 h 30 Discussion entre animateurs -- Rassembler
16 h 45 Remarques finales