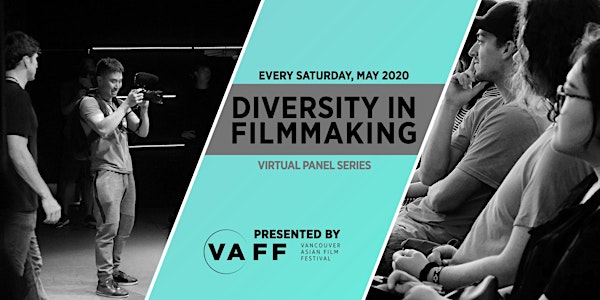 Diversity In Filmmaking Virtual Panel Series
Diversity In Filmmaking Virtual Panel Series - Every Saturday
About this event
In celebration of Asian Heritage Month this coming May, the Vancouver Asian Film Festival is kicking off its Mighty Asian Moviemaking Marathon campaign with a special "Diversity in Filmmaking" panel series provided virtually from May 9 to JUNE 6, 2020 (every Saturday at 2:00 pm).
Come spend an hour with us every Saturday to explore how people of colour are impacting various aspects of filmmaking. Our creative producers Mayumi Yoshida, Nach Dudsdeemaytha and Joshua Lam, as well as producers Arnold Lim, Lynne Lee and Regina Le will lead a panel discussion each week about different areas of film development and production and addressing issues arising in these unprecedented times.
ADDRESSING THE CURRENT SITUATION - MAY 9, 2020:
Special Guests: Mina Shum and Tzi Ma
Moderated by: Mayumi Yoshida
PRACTICAL FILMMAKING - MAY 16, 2020
Special Guests: Gorrman Lee, Jennifer Liao & Albert Shin
Moderated by: Arnold Lim
DIVERSITY IN ANIMATION - MAY 23, 2020
Moderated by: Joshua Lam
Special Guests: Andy Poon, Jenny Kong, Vincent Tong
FIRESIDE CHAT WITH DOMEE SHI: UP CLOSE AND VIRTUAL - MAY 30 2020 - 11:00am
Moderated by: Guest Moderator -Natasha Jung
Special Guests: Domee Shi
DISTRIBUTION FOR UNCERTAIN TIMES - JUNE 6, 2020
Panel Descriptions: Visit our VAFF.ORG for additional details:
http://vaff.org/diversityinfilmmaking-2020/
Reserve your seats today!
If you love the arts and want to continue to see films from a distinctly North American perspective, make a donation and support our efforts.
THANK YOU!