DIVERSITY. INCLUSION & EMPOWERMENT. Panel and Group Discussions
Building Communities and Organizations Where Everyone Can Belong, Contribute and Succeed
About this Event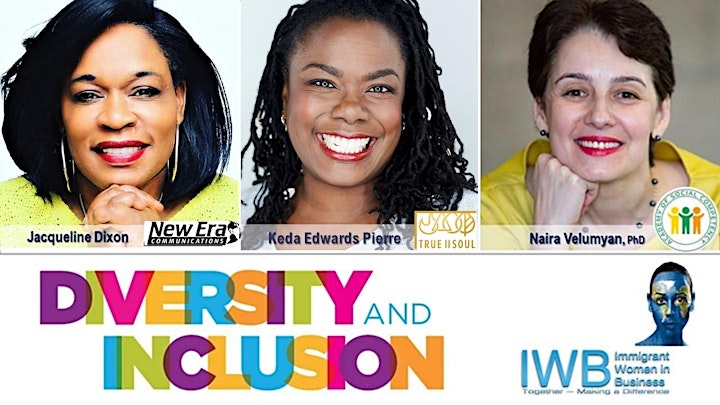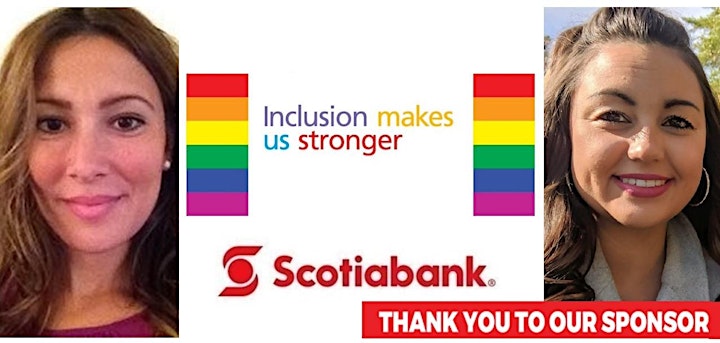 The confluence of events of 2020 has forever changed our lives: beginning with COVID-19, the ensuing economic crisis, civil unrest, and seismic protests driving a sea of change.
Our top notch speakers are uniquely positioned to provide ways to help heal the wounds of the past, address the injustices of the present, and build a better future for all, together.
This event is your opportunity to engage in deep, meaningful conversations about diversity and inclusion, this event offers compelling content and the opportunity to interact with industry professionals and leading experts focused on advancing this goal.
The insights, connections and networking opportunities this event offers swill benefit industry professionals who want to access knowledge they can use to improve themselves and organizations
Join us to inform and educate our community about diversity, equity, inclusion, and access.
CONTENT - ENCOURAGING POSITIVE IMPACTS
IWB promotes diversity, equity, inclusion (DEI) and access. Diversity makes us more innovative, creative and leads to better decision-making, among all other positive impacts. We are committed to creating an inclusive and welcoming space which celebrates diversity of people and content across all communities.
5:00 PM Stories to Empower by Attendees.
MOTIVATION: Steve Kerr, Inspirational Author, Coach, Business Leader, helping you discover your PASSION & PURPOSE!
ICE BREAKER - BELONGING: by: Joy Barnwell
5:15 PM-5:30 PM - BLM Black Lives Matter
Individual experiences and historical events that serve as a catalyst for the recent Black Lives Matter movement. The focus of this panel is to provide insight into these topics and also solicit ideas of how the IWB community can help in educating people in creative ways like leveraging our leaders extensive experiences, technologies or designing programs that address some of these issues.
Moderator: Joy Barnwell Panelists: Jacqueline Dixon, Kimberley Cato ,
BIOS: Kimberley Cato CEO & Founder of TRUE ROOTS Counselling Services Transforming Trauma Into Triumph. trueroots.org
5:30-5:45PM - WOMEN EMPOWERMENT - Panel
biggest challenges to your empowerment; single most influential factor of success as an empowered woman (E.g. strategy, situation, lesson, mentor, etc.); recommendation(s) to women who seek to empower; groups, resources or organisations for advocacy, support and/or collaboration pertaining to women's empowerment
Moderator: Zahra Abdullah Panelists: Charmaine Williams, City Councillor Brampton, Shirin Ariff, IWB Founding Member, India. Author*Inspirational Speaker*Resiliency Coach* Aziza Zareh, IWB Founding Member, Afghanistan, Gender issues, UN - MBA, Keda Edwards Pierre, Speaker | Actor | Life & Business Coach | Forbes Contributor, Assiatou Diallo, Entrepreneur, Philanthropist And your future MPP
Moderator: Zahra Abdullah
5:45-6PM - THE IMPORTANCE OF INCLUSIVITY: HOW INCLUSIVITY AND BELONGING ARE KEY TO THE SUCCESS OF THE 21ST-CENTURY
Discover through Naira's insights and intention of belonging was instrumental to the series success and why inclusive storytelling is essential today!
BIO: For over 30 years, Armenian Russian native, PhD, RP, Communication/Relationship Coach, Art Consultant, Entrepreneur speaker Naira Velumyan has dedicated her life and career to empower people to become happier, healthier, and more confident. Find her award-winning online training series, educational materials, and more at academyofsocialcompetency.com
6 PM-6:15 PM - WOMEN'S LEADERSHIP. CORPORATE & COMMUNITY ENGAGEMENT Description: This panel discussion will be focused on gender equity in the workplace, where leaders from Scotia Bank and attendees will share the steps they're taking to empower women leaders — and how others can do the same.
Single most influential factor in your success as an empowered woman in corporate culture ; how community engagement contributing to corporate success; effective strategies to increase community engagement; strategies leaders employ to create and maintain a truly inclusive culture
BIOS Kyla Whitlow Mary Costa Scotiabank, Diversity & Inclusion, Persons with Disabilities, Global Talent Acquisition Strategies and Programs
Moderator: Zahra Abdullah MBA Business & Executive Coach| Business Transformation Consultant | Diversity & Inclusion Advocate | https://authenticleaders.ca/
6:15 PM-6:30 PM - THE ROLE OF SOCIAL ENTERPRISE IN SUPPORTING WOMEN'S EMPOWERMENT Moderator: Keda Edwards Pierre,
BIO: Stephen Clarke has been in the world of marketing for over 25 years, having run his own advertising/marketing agency, served as a senior VP of Saatchi and Saatchi, one of the world's largest and most respected advertising agencies and CEO of RTG Group Inc, a for profit social enterprise. https://www.rtggroupinc.com/
6:30 PM - 6:45 PM - MENTAL HEALTH AND WELLNESS
Panelists: Kimberley Cato Moderator: Joy Barnwell
6:45 PM - 7:00 PM - WOMEN IN TECH: • FILLING THE GENDER GAP. INSPIRE AND EMPOWER THE NEXT GENERATION OF FEMALES TO PURSUE AND DEVELOP THEIR CAREER IN TECHNOLOGY
Join Women in Tech for a discussion on what it means to foster, experience and advocate for Belonging in our tech community, featuring panelists from ASIS association for security professionals
Panelists: Ceres Silva,"To create a more diverse and inclusive tech world, we need to inspire and empower the next generation of female role models to pursue and develop their career in technology and become innovators, leaders and entrepreneurs. It's a process and it's not always straightforward. It takes time, action and support. Join us on a mission! Together we can make a difference."
7:00 PM - 7:15 PM - YOUTH EMPOWERMENT Panelists: Francine Mbvoumbo, Annabel Oromoni, Stacey Ntongo Moderator:Jenniffer Bonilla Lozano
This event is open to all, registration is highly encouraged!
This event will be conducted via the Zoom platform. https://us02web.zoom.us/j/81781631716?pwd=dGpoMWlBOHNSWHVxVnY2YVRWNFNKdz09 Meeting ID: 817 8163 1716 Passcode: 275976