Diversity Mentorship Program 2019-2020 Orientation Event
About this Event
The Diversity Mentorship Program (DMP) is a program created by the University of Toronto's Faculty of Medicine with the goal of connecting 1st and 2nd year medical students from underrepresented/minoritized groups to faculty mentors who are able to support and assist them in their educational and professional growth and development.
This DMP orientation event will provide mentees and mentors with important information about the program, key tips on forming a successful mentorship relationship and recognize the important contributions of participants. Dinner will be provided.
Although this event is not mandatory, all mentors that have a one-on-one match and/or are participating in mentorship circles are strongly encouraged to attend this event. In addition, all mentees are encouraged to attend this event.
If you are not a 2019-2020 DMP participant, we ask that you please not register for this event as space is limited.
EVENT AGENDA:
5:30pm-5:45pm - Registration
5:45pm-6:20pm - Land Acknowledgement and Welcome Address by Lisa Robinson, Associate Dean, Office of Inclusion and Diversity and Patricia Houston, Vice Dean, MD Program
6:20pm-6:30pm - Spoken Word Performance by Chantal Phillips
6:30pm-6:45pm - Past DMP participants share insights and experiences
6:45pm-7:15pm - Program Overview
7:15pm-7:30pm - Group Discussion
7:30pm-8:00pm - Sign mentorship agreements and sign up for mentorship circles
8:00pm-8:30pm - Open Networking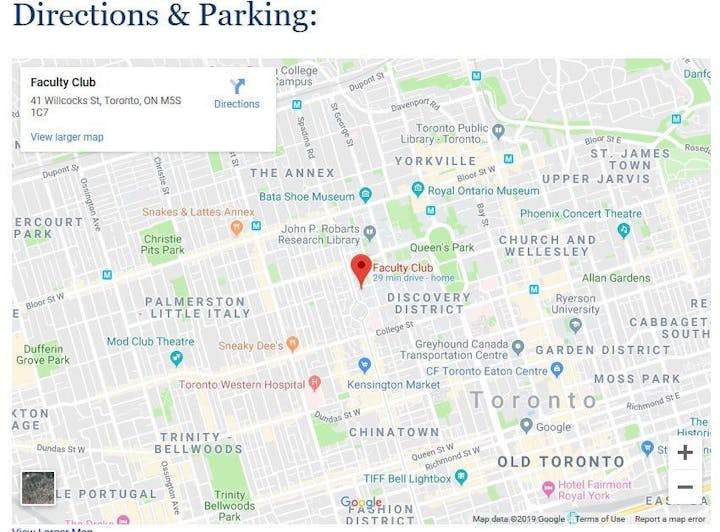 Finding the Faculty Club:
41 Willcocks St.
Phone: 416-978-6325.
Phone After hours & Saturday: 416-978-6405.
Driving: From the East via Don Valley Parkway – follow the signs for the Bloor Street Viaduct which brings you out at Bloor Street about 3 Km from your destination. You will turn right onto Bloor. Heading west along Bloor, you should turn left at the lights at St. George and head south on St. George. It is probably easiest to continue down St. George to College, turn right on College and then right onto Spadina Ave. This will get you to the parking lot.
From the West via the QEW and Gardiner Expressway – Follow the downtown signs to the Spadina Ave. exit from the elevated Gardiner Expressway. Follow Spadina Ave. 3 kms north to Willcocks.
Subway/TTC: Exit Spadina station Take the southbound streetcar, Willcocks is the 3rd stop.
Parking:
Spadina 1 Meter Parking (SP1) : Drive north on Spadina, past College, around Spadina Circle, keep on left lane - entrance on N side to SP1 (do not park on reserved blocks or permit block).
Graduate House Meter Parking (GH) : One block N of Harbord, turn right (E) onto Glen Morris (one way east). Underground parking (2 levels) at NE corner of Graduate House, entrance off Glen Morris.
CIT Parking : Meter parking, underground , Parking (4 levels) entrance off Huron Street (213 Huron Street)
By the TTC:
http://www.ttc.ca/Routes/510/Map.jsp
http://www.ttc.ca/Routes/510/Northbound.jsp
http://www.ttc.ca/Routes/510/Southbound.jsp
Accessibility: https://www.facultyclub.utoronto.ca/About_the_Club_(1)/Facilities
The event will be held in the Wedgwood Dining Room, which is wheelchair accessible. There is a ramp entrance on east side of building.