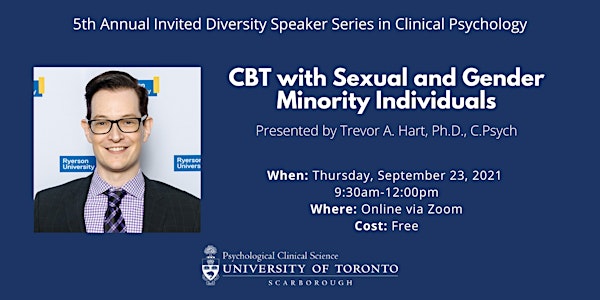 Diversity Speaker Series: CBT with Sexual & Gender Minority Individuals
Join us September 23 , 2021 for our 5th Annual Diversity Speaker Series in Clinical Psychology, presented by Trevor A. Hart, PhD, C.Psych.
About this event
The Graduate Department of Psychological Clinical Science at UTSC invites you to CBT with Sexual and Gender Minority Individuals, presented by Trevor A. Hart, Ph.D., C.Psych.
Event Details:
Thursday, September 23, 2021
Workshop – 9:30am-12:00pm
Online via Zoom
Cost - Free
In this talk, Dr. Trevor Hart will present foundational information on the use of evidence-based psychotherapies with sexual and gender minority (SGM) individuals, with a focus on cognitive-behavioural therapies. Dr. Hart will review useful terminology for working with SGM individuals, including current terms to describe diverse sexual and gender identities. Dr. Hart will then discuss evidence-based theories and data that can be used to guide CBT for SGM individuals. Lastly, Dr. Hart will present how to incorporate knowledge from the research literature on SGM individuals when applying specific CBT techniques (e.g., cognitive restructuring, exposures and behavioral experiments) with SGM clients.
--
Trevor A. Hart, Ph.D, C.Psych, is a Professor and Director of the HIV Prevention Lab at Ryerson University. He holds a Research Chair in Gay and Bisexual Men's Health from the Ontario HIV Treatment Network and serves as an Associate Editor of Health Psychology and Behavior Therapy. Dr. Hart received his doctorate in clinical psychology from Temple University and completed a post-doctoral fellowship at Emory University School of Medicine, through which he received training at the Division of HIV/AIDS Prevention of the U.S. Centers for Disease Control and Prevention.
Organizer of Diversity Speaker Series: CBT with Sexual & Gender Minority Individuals