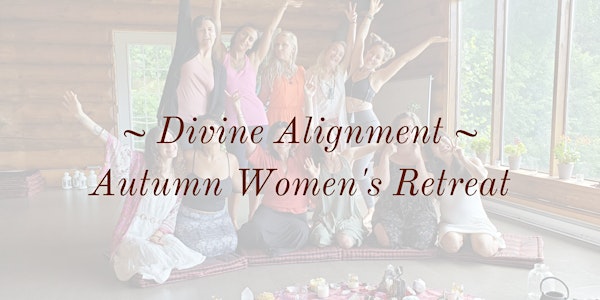 Divine Alignment || Women's Autumn Retreat
You came here for a purpose, and the unfolding of that is in full effect. Come home to your authentic truth, and be held in your expansion.
When and where
Location
Rosseau Heklah Rd Rosseau, ON P0C Canada
Refund Policy
Contact the organizer to request a refund.
Eventbrite's fee is nonrefundable.
About this event
Explore and align with your power, know your true Self, and deepen your connection with nature, as you create lasting bonds with sisters on the same journey as you.
Join us for 4 days of connection, healing, and transformative self-care, in the heart of the Muskokas. Re-member your divine feminine essence, and experience the ease and pleasure that comes when you trust and surrender to life's flow.
When we gather in sisterhood, we become mirrors which reflect each other's beauty and strength. In a world that continuously reinforces self-doubt, and the questioning of our inner voice, this is the medicine we need.
.:: Sweet Sister ::.
Our Autumn Retreat will Focus on Integrating the incredible Expansion and Activation that has taken place throughout 2022, and coming into Alignment with Ease, Pleasure, Joy, and your Divine Feminine Essence.
✦ Come into deeper union with your body, your natural rhythms and cycles, and the sacredness of your sensuality.
✦ Stand in your power and recognize that you are divine, perfect, and beautiful, in this now moment.
✦ Find your authentic voice and gain the courage to speak your truth.
✦ Strengthen your connection to your source, inner voice, and hear the messages of your soul.
✦ Feel comfortable and safe in the presence of other women, and create lasting sisterhood bonds.
.:: This Retreat is for the Woman Who ::.
✧ Wants to integrate her growth with like-minded women, and feel more balanced as she moves through life.
✧ Wants to stop doubting herself, and instead learn to trust her inner voice and surrender to universal flow.
✧ Wants to get out of living in her masculine, and lean into her inner divine feminine.
✧ Wants to reignite her sacred relationship with pleasure, her body, and the natural cycles of nature.
.:: Retreat Highlights ::.
✦ Shakti Flow Yoga
✦ Restorative & Yin Yoga
✦ Tantric Breath-Work
✦ Guided Meditation
✦ Shamanic Womb Clearing & Activation
✦ Body Transfiguration Ritual
✦ Sacred Sister Sharing Circles
✦ Yoni Steam Workshop
✦ Taoist Tantric Arts Practice
✦ Cacao Manifestation Ceremony
✦ Sound Bath & Sacred Song
This is a time to integrate the expansion and shifts both within ourselves, and those being experienced throughout the collective.
Let's nurture our gifts together, gathering in sisterhood to mirror each other's greatness, to help us know & feel that we are not alone.
.:: Grounds & Accomodations ::.
The Rosseau Sanctuary is located in the Muskokas about 2 hours north of Toronto, surrounded by pristine forests, organic gardens, and a mystical 90 foot in diameter Chartres Labyrinth. The grounds are enveloped by a crisp clear stream and moss covered forest trails.
You'll feel like you stepped into a dream and wake up to realize this is your life!
The Sanctuary home farm is a rustic log cabin with a fireplace, ceremonial room with large bay windows, open kitchen and dining room. There are 2 full bathrooms, and an outdoor shower. On the 2nd floor of the main house are 7 single beds in a spacious dorm style room. Surrounding the main house are 4 private bunkies that you can upgrade to.
.:: Cost ::.
Regular price: $945 + tax
Early Bird - Until September 23rd: $795 + tax
✦ Includes entire retreat program, materials, ALL meals (vegan, gluten-free, organic) and shared-lodging*
✦ A $222 deposit will hold your spot. Full payment due by October 1st.
To skip the ebrite fees, etransfer to: hello@jenniferpolansky.ca
Payments are non-refundable. (Partial credit given toward future events)
*Private and semi-private lodging available for an additional cost.
**Discounted spots are available for women needing financial assistance. If your heart is a YES, and finances are keeping you from coming, please send us a message.
Beautiful sister.
Join us for a weekend of healing and transformation ♥
Our Retreats are a safe space to go deeper into Self while being supported by sisterhood and nature, so you can strengthen your connection to your heart, body and soul.
A weekend to bask in self-care, self-love, and self-acceptance; opening up the potential and possibility you hold as a woman, the embodiment of the divine feminine.