Divine Feminine Divorce: How to Alchemize a Powerful New Beginning
Sales Have Ended
Registrations are closed
Thanks for registering for this life changing masterclass!! Looking forward to seeing you there! ❤️ Daniela
Sales Have Ended
Registrations are closed
Thanks for registering for this life changing masterclass!! Looking forward to seeing you there! ❤️ Daniela
You CAN get to Calm Confident Clarity during & after Separation & Divorce ... even in a global pandemic!!
About this event
Are you ready to STOP Losing It!?!
Losing your shit? Losing yourself? Losing hope?
Are you ready to:
Co-create a powerful new beginning
Because you CAN:
Choose to restore calm, reignite your confidence, regain clarity, and be the epic woman who shows up for yourself, your kids, and your clients!!
Experience what it is to be grounded, centered, and stand in your power; able to make the important decisions you're facing with a clear mind, a confident heart, and a calm spirit!!
Move through your separation and divorce process peacefully AND with a whole lotta moxie!!
Join me on Wednesday, May 12th at 7pm Eastern Time as I walk you through some simple strategies that helped me alchemize a happy, healthy, whole-hearted, powerful new beginning!
This masterclass is for you IF:
you're willing to believe divorce doesn't have to be ugly
you see your family as transforming (not broken)
you recognize that choices you make today shape the future you experience tomorrow
you'd rather go on vacation yourself than send your lawyer & their family!!
you're ready to say NO to chaos & pandemonium
This masterclass is NOT for you if:
you still blame your ex for everything that's wrong in your life
you enjoy trash talking them to anyone willing to listen
you like doing the same things over and over, expecting a different result
$30k in legal fees and years off your life sounds like a walk in the park
(And that's okay because I'll still be here when you decide you're ready to do things differently.)
If you're ready to take action, register now and join me on Wednesday, May 12th @ 7pm Eastern Time to discover that you're way more powerful than you think you are.
Believe!! You're enough.
❤️ Daniela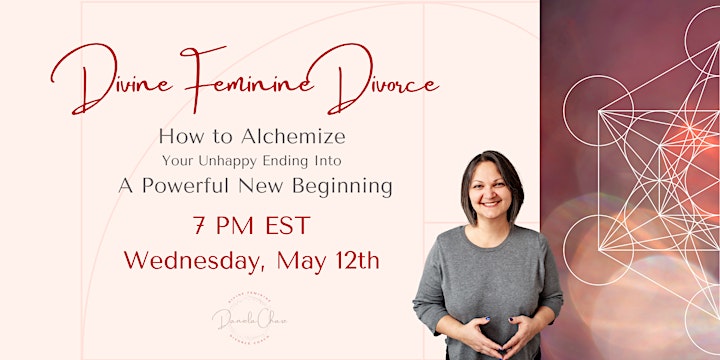 Organizer of Divine Feminine Divorce: How to Alchemize a Powerful New Beginning