CATS - Coffee and Tarot Society, with guest presenter V., the Tarot BFF & Lenormand Liaison
About this event
Divine Manifesting: Using the Predictive Power of Lenormand
Join V., the Tarot BFF & Lenormand Liaison for a fun and inspiring masterclass on Mastering Your Destiny! Learn how to use the predictive power of Lenormand to case your manifestations into the Universe and create a "step ladder" to climb to keep you stable and secure on your road to success! All you need is an open mind, your deepest desires, and a Lenormand deck; handouts will be available.
About the Presenter:
V. is the Tarot BFF behind RedLight Readings and the Cosmic Confidence Coach! Delivering wisdom and insight through "straight-shot, no chaser" readings, her BFF clientele likens her reading style to that of a best friend -- down to earth and practical, infused with empowering tough love. As the Cosmic Confidence Coach, she helps BFFs that are ready to live life OUT LOUD and manifest their most exceptional existence, by teaching them how to navigate their intuitive gifts and develop strategies for strengthening their self-esteem. Her mission is to aid in their transformation from the "should life" to the "GOOD LIFE", and encourage them to boldly walk in the way of their wildest dreams!
As an internationally known Tarot Reader, Intuitive Counselor, and Teacher, V. has taught various classes on Tarot and Lenormand to students around the world and reads professionally at the Boston Tea Room in Ferndale, MI. She is social media savvy and LOVES to hang out on Instagram, where she hosts a weekly "power hour" called "Turnt Tea - Wellness Wednesdays". During Tea Time (noon on Wednesdays, EST ), she taps into the collective to offer love, support, learning, and laughs by way of intuitive messages and does a select number of readings for those that are in attendance. Her motto is: "Even if you don't get picked, you can still "Get Red"!"
V. currently hosts an online manifestation group, has been a guest and interviewed on various podcasts and IG Lives, contributed to several written publications, and is working on her first book."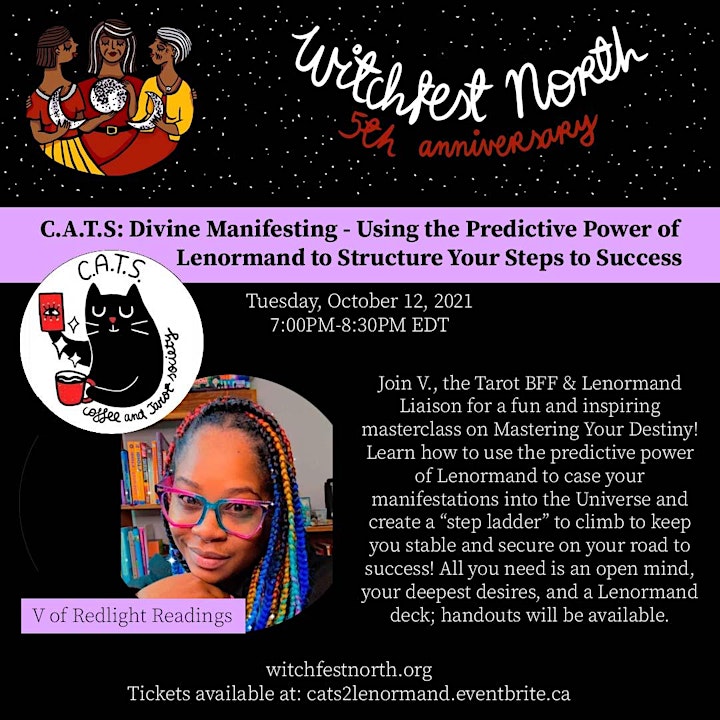 Date and time
Location
Refund policy
Organizer of Divine Manifesting: Using the Predictive Power of Lenormand (CATS #2)
This is the 5th Annual WITCHfest North Art and Culture Festival and would not be possible without the tireless efforts of dedicated volunteers, advisors and participants who share a similar set of ethics and vision for our communal future. Our spirituality goes deeply into our ancestry and we honour the earth and all of its inhabitants. We celebrate all those who seek to connect with the sacred universe and respect its mysteries. We recognize Tkaronto, Turtle Island all of this land as the traditional and sovereign territories of Indigenous peoples. We honour all who walk their path respectfully and treat others with respect through our actions not words and are not performative allys. We have zero tolerance for racism, sexism, ableism, ageism, harassment of any kind and welcome practitioners of the esoteric arts from all communities, WOC, Indigenous, members of the LBGTQ2S+ community, and all those whose voices have been historically marginalized, colonized or suppressed. We recognize the complexity of intersectionality and welcome those who choose not to identify or be labelled. Our core organizers and advisory council are comprised of an ever-changing and expanding community of spiritual people who come from diverse abilities, gender identifications, cultural backgrounds, ages and practices. Our goal is to seek community, unite and share our diverse points of view with a wider audience so we may become a visible, welcomed and respected community. Although we are primarily showcasing the talents of and are advised primarily by women, we welcome all genders and gender identifications to participate in this festival and will ensure inclusive programming. For more information please contact witchfestnorth@gmail.com