Diving Deeper: Harm Reduction and Trauma Informed Care Capacity Building
About this Event
Join in a morning of capacity building for service providers and community members! This event is designed for support service organizations and is open to community members or anyone with an interest in gender and diversity analysis and harm reduction/trauma informed care and practice and policies.
Information sharing*, from the Diving Deeper community research project, will be presented by Mary Clements (Project Coordinator), and includes discussion of:
"Context of Risks and Vulnerabilities and Identified Needs for Women, Transgender and Non-Binary Islanders Accessing Support Services"
"Current Best Practice in Harm Reduction for Community Based Organizations"
"Trauma Informed Practice on PEI: Key Thematic Findings and Recommendations"
GUEST SPEAKERS INCLUDE:
JAY GALLANT (Gender and Sexual Diversity Activist):
"Assumed Unsafe: My Experience Accessing Community Mental Health Supports as a GSD Individual"
CYBELLE RIEBER (Executive Director, PEERS Alliance):
"Creating Safer Spaces: Increasing Capacity for Service Provision"
SHELLY MURPHY MSW, RSW (Owner/Counsellor/Consultant at MIND/shift Workplace Wellness & Counselling Services):
"Holding Space: Healing Through Lived Experience"
There is no cost to attend (presented by PEERS Alliance with funding from The Interministerial Women's Secretariat). This is a 2SLGBTQ+ friendly space, and is wheelchair accessible. If you have any special needs or require transportation to the event please inquire with Mary Clements (Project Coordinator), (902) 566-2437 for assistance.
PLEASE NOTE: registration is required as seating is limited. Light refreshments and tea/coffee will be provided.
*Some information sharing contains potentially distressing material in regards to experiences of trauma.
About the project - Diving Deeper: Harm Reduction and Trauma Informed Care for Women and Diverse Populations in PEI, was a 6 month research project (by PEERS Alliance), engaging with community based organizations supporting PEI women, trans and non binary folks in vulnerable situations. It also heard first hand from those service users about their experiences accessing help around issues such as housing, domestic violence, substance use, and support with their physical, mental, and sexual health. The goal was to discern the local contexts of risks and vulnerabilities for service users, as well as to identify needs to enhance support service delivery for both service providers (the overall organization and it's employees), and the women, trans, and non-binary service users that access them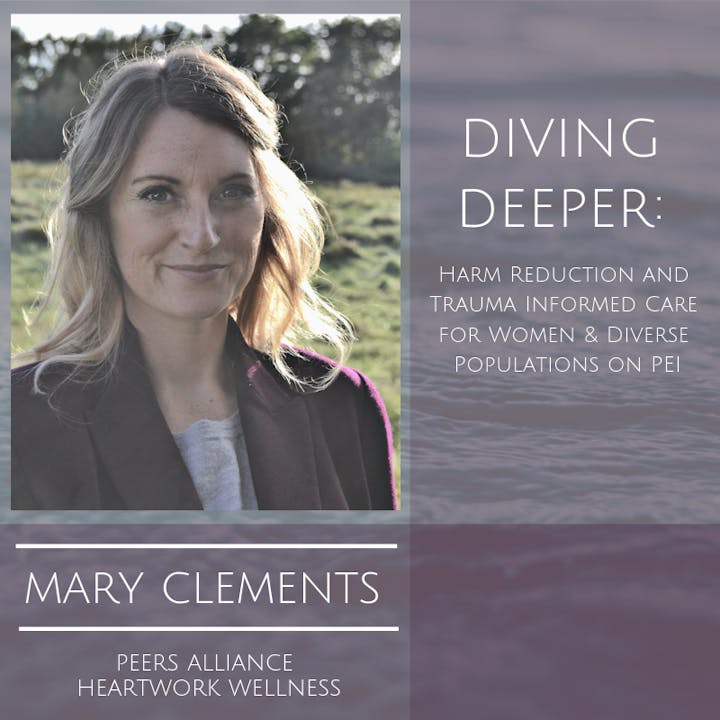 Diving Deeper will be facilitated by Project Coordinator, Mary Clements. She is grateful to all of those who participated and told their stories. She looks forward to sharing the project findings, and creating an opportunity for awareness building and growth.
⠀⠀⠀⠀⠀⠀⠀⠀⠀
Mary has held various positions within psychoeducational and community health settings, and is passionate about engaging in mental health advocacy and capacity building. In addition to her other roles, she has operated a private counselling practice for the past ten years. She strives to work through a trauma informed lens, and is greatly inspired by Gestalt therapy and mindfulness meditation. She facilitates work in individual and group settings in a creative and collaborative process - encouraging people to experiment in the here and now, leaning into more moments of contact with themselves and with others.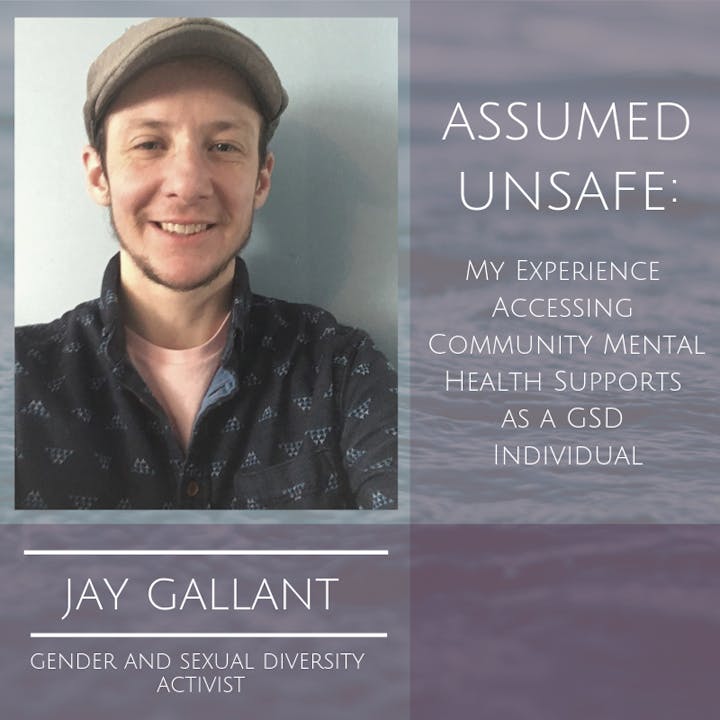 As a trans and pansexual identified individual who has accessed community mental health services in PEI over 20 years, Jay has had both good and difficult experiences in terms of feelings of safety and inclusion. In this talk, Jay will discuss personal and institutional factors that have contributed to his reluctance to disclose his gender identity and sexuality in community mental health spaces, and why he assumed such spaces were unsafe until proven otherwise. He will also talk about positive experiences he's had and the factors that contributed to such experiences.
⠀⠀⠀⠀⠀⠀⠀⠀⠀
Jay Gallant is a local activist for the GSD (Gender and Sexual Diversities) community. He currently volunteers with groups such as PEERS Alliance, the PEI Human Rights Commission, and the UPEI Philosophy Department giving talks and education sessions concerning GSD issues, and providing consultation work. He is also a member of the Health PEI Transgender Steering Committee. Jay identifies as trans-masculine and goes by he/him pronouns.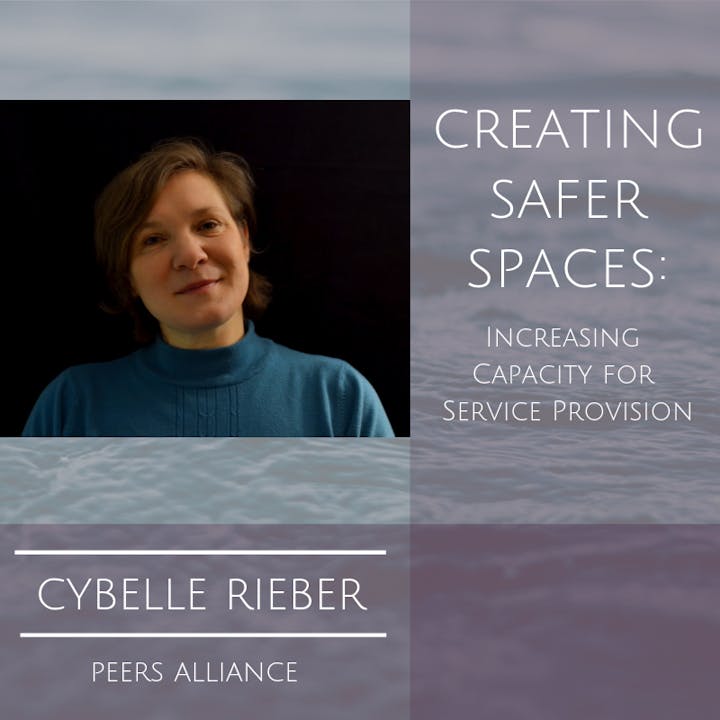 We cannot guarantee a space will be completely 'safe' for every person who walks through the door, but spaces can be made safer for a wider range of people. To do this successfully, it is essential that the folks working in these spaces be willing to explore their own assumptions about what safety may mean and about the people who are coming in for services. Cybelle will lead an interactive session focused on exploring our own assumptions and how these may act as facilitators or barriers for creating safer environments for those accessing services.
⠀⠀⠀⠀⠀⠀⠀⠀⠀
Cybelle Rieber is the Executive Director of the PEERS Alliance (Charlottetown, PEI). She has over 20 years experience in the field of sexual health and harm reduction, from both a community-based lens and health institution perspective. She works extensively with topics related to sexual and gender diversity and creating welcoming and inclusive environments.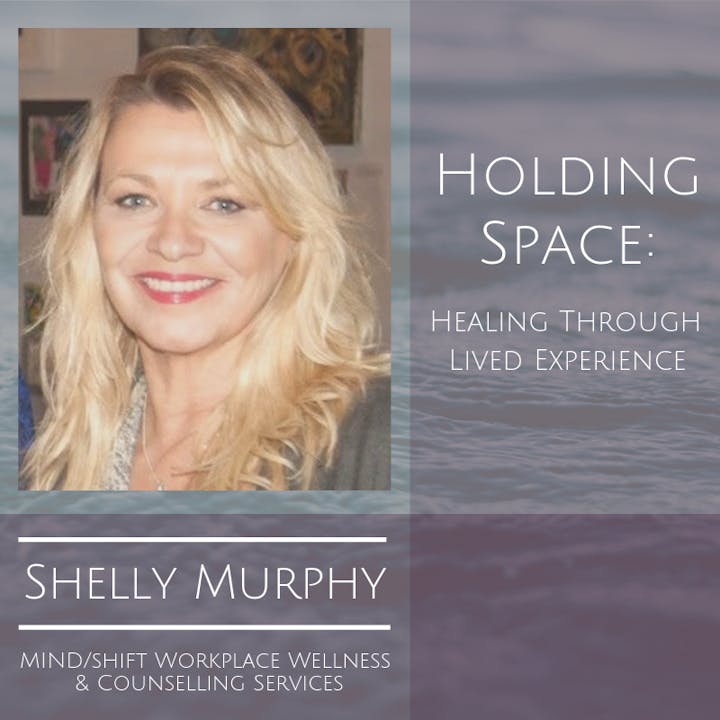 "Holding space" means that we are willing to walk alongside another person in whatever journey they're on without judging them, without making them feel inadequate, without trying to fix them, or trying to impact the outcome. While Shelly has worked really hard to earn the letters behind her name, ultimately it has been her experiences with peer support principles, recovery and anti-oppressive frameworks that have guided her practice and allowed her to hold space with her clients in an inclusive and unique way. This discussion will introduce these principals and share how they can be utilized to help build resilience, foster self-advocacy and support others through a healing, trauma informed lens.
⠀⠀⠀⠀⠀⠀⠀⠀⠀
Shelly has over 20 years of experience in the field of mental health and substance use, developing peer support and recovery programs and working with complex trauma and occupational stress related issues such as PTSD and Compassion Fatigue. She draws upon her own personal and professional lived experiences, advocating for peer support and mental health recovery initiatives and promoting psychologically safe work environments.