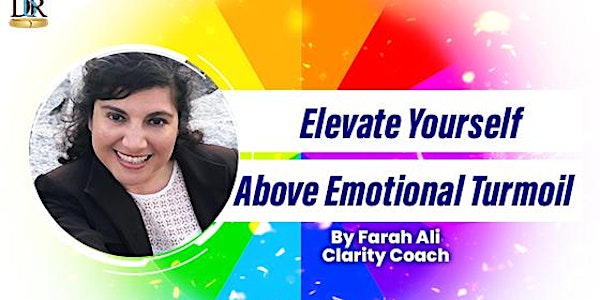 Divorcing/Breaking Up? Elevate Yourself Above Emotional Turmoil
Event Information
Refund policy
Contact the organizer to request a refund.
Eventbrite's fee is nonrefundable.
Avoid losing time, money, and sense of self by skillfully overcoming turmoil your breakup/divorce: 3 sessions, live coaching, great bonuses!
About this event
Thinking of Divorcing/ Breaking Up?
In the Process of Divorcing/ Breaking Up?
Still Feeling Off-Balance Post Divorce/ Break Up?
Avoid losing time, money, and sense of self by skillfully overcoming turmoil. This course will help you master emotions quickly, create a path forward, and let your best self shine.
JOIN THIS 3-SESSION COURSE WITH AMAZING BONUSES
Each of the 3 sessions is offered live or can be viewed as a recording at your convenience
Each session is 90 minutes:
60 minute workshop
30 minute group-coaching
DATES FOR LIVE SESSIONS AND REPLAYS:
4:30-6:00 PM (PST) on Jan 18, Jan 25, Feb 1
Recordings are available 24 hours later.
BONUSES:
Discount: $100 off regular price. The price you pay today reflects the discount.
One on One 30-minute coaching call for goal/priority setting (by the end of February) ($80 value)
Online community membership with 24/7 support from like-minded people and dozens of coaching experts and loads of additional training materials ($89 value)
COURSE DESCRIPTION:
Tap into your inner strength to regain a sense of control. Let go of issues that are eating you up but don't matter, so that your feet stay on the ground.
The turmoil that comes with divorce/breakup does you no favours. You might feel exasperated about the messy emotions that are showing up. Maybe you're holding your breath, waiting for this stage of your life to end so that you can be done with the drama.
Don't let emotional ups and down get the best of you. Don't come out shattered and feeling not good enough. There is a better way.
Nobody deserves to feel out of control during a divorce. In this course, you'll learn to get back into a calmer place in minutes and feel like yourself again. You'll get clear about who you are, what got you here, and where you want to go so that you have a roadmap for yourself.
Build Better Skills AND Reflect Thoroughly
In each lesson, you'll learn 1-2 processes that are easy to use, take a couple of minutes, and relieve stress instantly. These are research-backed methods that you'll use again and again whenever you need them.
The course helps you get even better clarity and control of your situation by strategic reflection of 3 key themes that affect your emotional state around divorce:
Improve Your Situation Right Away:
It's critical to get off the emotional roller coaster and get your feet firmly grounded. When you do, you can focus on what's important. Don't spiral on the things that bother you but don't matter. You can face challenges that are in front of you in a way that is true to yourself and your higher values.
Learn to manage your emotions and move beyond them. Be your highest self. Get 24/7 support from like-minded people in a positive and safe community-setting, that allows us all to become the best versions of ourselves.
These are the benefits you'll get from this course:
9 quick and easy tools that you can use anywhere to free yourself from disruptive emotions. Follow-along video and printable guides make it even simpler to do.
Understand your current situation and the weak points. Know what's creating unnecessary turmoil so you can stop the ups and downs from happening on repeat.
Deeper understanding of what got you in your current predicament, and free yourself from regrets that are taking up brain space.
Build a vision for the future that resonates with you and is directly related to what your deeper yearnings are pointing to.
Uncover the real you, without emotional baggage, even if you feel lost and disconnected from the person you used to be.
Restore energy and clarity –feel the benefits of this on your capacity for grounded decision-making.
Really see what is there to see, and move on without hanging onto baggage.
Go at the pace that's right for you: work gently and focus on the emotional upsets that matter most to you.
Transform how you deal with challenges as they happen.
Skillfully manage future challenges in all areas of life that matter to you; harness your emotions to help you move faster.
Get help for your specific situation. This course does not provide blanket advice like 'go meditate' and 'say X in the mirror'. You'll work with exactly what is happening in your life.
THIS COURSE IS IDEAL IF YOU…
Are exhausted by disruptive emotions and it needs to stop. Feel in control again.
Spend more time and energy than you want to work through each upsetting interaction.
Need to handle the big questions that really matter for successfully navigating a divorce, and freeing up mental and emotional space will help you get there.
Feel rootless and disconnected from your real self, and maybe even don't remember who you were before the marriage.
Want to build new patterns of reacting: for reactions that come up in the moment, and for thought-loops that persist after an incident. Learn manage setbacks and triggering moments gracefully.
Know that it matters to make decisions with your brain, not emotions.
Are hard on yourself, and ready for compassion and deep understanding about what got you here.
Want to connect with a long-term vision for where you are heading.
Have questions, want deeper support? Schedule a free 20minute consult: https://calendly.com/farahalicoach/20min
Date and time
Location
Refund policy
Contact the organizer to request a refund.
Eventbrite's fee is nonrefundable.