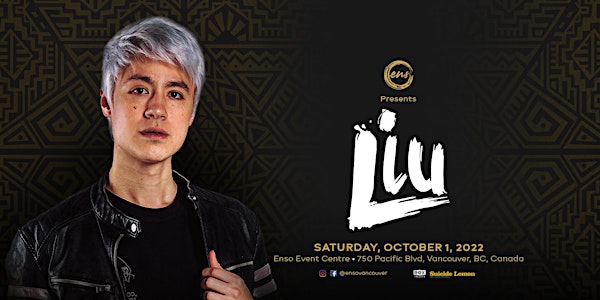 DJ LIU - CANADIAN DEBUT
DJ LIU - CANADIAN DEBUT
When and where
Location
Enso Event Centre 750 Pacific Blvd Vancouver, BC V6Z 2R8 Canada
Refund Policy
Contact the organizer to request a refund.
About this event
Enso Event Centre presents
DJ LIU
Canadian Debut
at ENSO MAIN STAGE
750 Pacific Blvd, Vancouver, BC, Canada
SATURDAY, OCTOBER 1, 2022
FREE RSVP Before 11:30 pm
With a classic musical background and passionate about dance music since he was 11, DJ and producer Liu began his career as a prodigy in the electronic scene after his first hit "Don't Look Back" went viral on the electronic scene and reached the top 1 on Beatport. Studio dedication, live charisma and fascinating music helped the artist captivate a legion of fans and become one of the most sought after DJs. Self-taught and diligent, the paths seem to open quite clearly for Liu, who quickly went on to fulfill major responsibilities in his career, from his successful musical productions to performances at national and international festivals such as Tomorrowland Brasil, Rock in Rio, and Lollapalooza, which with over 2 million and 6 million views, respectively, on YouTube, are the most watched sets in the festival world.
In addition, Liu has also participated in several international tours performing at major festival around Asia, Europe and the United States. Among his many hits, we can mention some important releases by the artist,
such as the single "Coastline", released by the label Spinnin' Records and has more than 36 million plays. And also the song "All I Want", produced in collaboration with Alok and released by the Armada label, which currently has over 48 million plays. Then Liu achieved even greater success with hits such as "Nave Espacial", a song that has more than 120 million streams, becoming a huge hit for audiences in Latin America.
Constantly growing, in 2022, Liu got off to a great start, having several viral videos on his networks, which represented an exponential growth in his career.
With his latest release, "Ringtone Drop", Liu reinforces his prominence on the world electronic scene. With more than 40 million views in videos on the internet, the track gained international prominence on social networks, generating a very significant growth in the artist's profile, who gained more than 200 thousand followers in a few weeks, becoming one of the most followed electronic music DJs in Latin America, with a global audience. Accustomed to the best of both worlds, Liu balances the sonic emotional state of his releases to please everyone, sometimes featuring night-oriented beats such as the track "Pirate" – which has over 20 million views, as well as being a viral hit on short video platforms – sometimes for an audience that is not so much into the dance floor circuit, with tracks like "Lost At Sea" and "Burning Up", demonstrating the flexibility in the work of the young DJ and producer, from radio to parties and vice versa.
Highlighted with the great reach he has had in recent times on social networks, Liu saw the opportunity to explore more content that reached an international audience, then began to publish videos that currently have tens of millions of views, thus reaching more than 20 million people from all over the world in a few weeks, with an emphasis on audiences in Europe, America, Australia and Asia.
WITH SUPPORT
TBA
19+ to attend
www.ensovancouver.com
Table Reservations: rsvp@ensovancouver.com