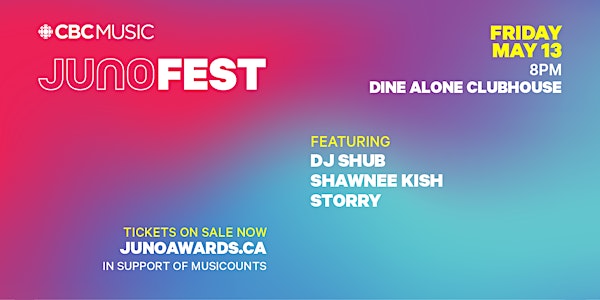 DJ Shub + Shawnee Kish + STORRY
CBC MUSIC JUNOfest Presents
Performers
DJ Shub, Shawnee Kish, Storry
Location
Dine Alone Records Clubhouse
864 Eastern Ave.
Toronto, ON M4L 1A3
Canada
CBC MUSIC JUNOfest presents DJ Shub + Shawnee Kish + STORRY
About this event
05.13 UPDATE Unfortunately Luca Fogale has to cancel his performance tonight. Coming back to Canada after his UK tour, he has lost his voice and is unable to sing. In his place, Shawnee Kish will open the evening with an intimate acoustic set starting at 8pm.
SET TIMES
Shawnee Kish @ 8pm
STORRY @ 9pm
DJ Shub @10pm
••
Shawnee Kish discovered music as medicine at a very early age. Born dreaming about being ‌on ‌stage and starting her journey toward a career in music at the age of 12, music has quickly become a source of self-empowerment for the Two Spirit soulful singer. Fuelling her with purpose and reason, making music has allowed Shawnee's to stand tall in her personal strength and power. Named the winner of CBC's 2020 Searchlight talent competition, this fierce, powerhouse artist has been celebrated as one of North America's Top Gender Bending Artists (MTV), named by Billboard as an Artist You Need To Know and continuously uses her music to empower. Listening to her chart-topping releases one can easily recognize that, as an artist, Shawnee has been influenced by the strong, confident voices of female performers such as Melissa‌ ‌Etheridge,‌ ‌Etta‌ ‌James,‌ ‌Nina‌ ‌Simone and Amy‌ ‌Winehouse.‌ Her deeply personal and always poignant lyrics are rooted in healing, allowing both herself and her listeners to find purpose‌ ‌and‌ ‌reason‌ ‌in the stories she tells. An outspoken advocate for her Indigenous and 2SLGBTQ+ communities, Shawnee is a proud Two-Spirit Mohawk who has shared the stage with some of the world's biggest names — Lady Gaga, Madonna and Alicia Keys to name a few. 2020 saw her step into the world of virtual performances without hesitation, taking part in The Canada House/UK Commerce International Women's Day Virtual Performance, performing at The Songwriter Series with Serena Ryder and participating in the RBC's Emerging Artist program. In addition to virtual performances, Shawnee raised her voice on a Grammy Museum Discussion Panel (Being an Artist During COVID) and joined the National Arts Centre of Canada on a collaborative youth project (ongoing). 2021 will see the Edmonton-based artist release a new EP that addresses her personal struggles of the past twelve months — "The‌ ‌main‌ ‌theme‌ ‌will be ‌lighting‌ ‌up‌ ‌what‌ ‌use‌ ‌to‌ ‌be‌ ‌and‌ ‌getting‌ ‌on‌ ‌with‌ ‌what‌ ‌is‌ ‌now.‌ ‌The‌ ‌songs‌ ‌represent‌ ‌becoming‌ ‌yourself,‌ ‌finding‌ ‌out‌ ‌where‌ ‌you‌ ‌were‌ ‌was‌ ‌not‌ ‌where‌ ‌you‌ ‌wanted‌ ‌to‌ ‌be‌ ‌and‌ ‌full‌y ‌embracing‌ ‌that‌ ‌in order to let go. ‌Light‌ ‌the‌ ‌Place‌ ‌up‌, ‌even‌ if it's ‌unintentional" — and hopefully return to touring. She will also continue her work with the We Matter Campaign and Kids Help Phone in hopes of empowering youth, providing strength and hope through music.
Instagram | Facebook | Twitter | TikTok | Spotify | Apple Music
STORRY is a multidisciplinary artist who writes and produces her music, and is intrinsically involved in all aspects of her career from designing album covers to directing award-winning music videos. Her debut concept album CH III: The Come Up was produced and released independently, and was nominated for a 2021 JUNO award for Adult Contemporary Album alongside Celine Dion and Alanis Morissette. Though rooted in R&B Soul, STORRY is at home in many genres from opera to reggae. Her single "Another Man" was produced by reggae royalty Sly & Robbie, and also nominated for a 2020 JUNO award. Her second release, INTERLUDE-19 is a conceptual EP of virtual collaborations in an array of emotions and genres, completed while in isolation due to the COVID-19 pandemic. Born and raised in Toronto, Canada to Lebanese and Greek parents, STORRY is a sex-positive, queer, feminist, left-brained artist who is pushing culture forward. Her art is raw and honest to the max. If it doesn't touch you, it'll hit you in the face.
Instagram | Facebook | Twitter | Spotify | Apple Music
•
Deejay-producer DJ Shub has undoubtedly pioneered a growing genre of electronic music since his initial start with internationally acclaimed group A Tribe Called Red (since reborn as The Halluci Nation). Born Dan General, he is a Mohawk, Turtle Clan of the Six Nations of the Grand River located in Ohsweken, Ontario. Since the creation of PowWowStep — a high-energy fusion of percussive Indigenous ceremonial chants with festival-ready EDM blitz beats — he has grown more aware of the Indigenous way of life through his music, merging his heritage with his craft. "This style of music – there is so much culture in it, and that's what makes it so original," he says. As a solo artist, DJ Shub released his first EP PowWowStep in 2016 and has since played some of the biggest music festivals in North America. He's also been featured in a number of national media outlets. His song "Indomitable" was notably hand-picked by Sacha Baron Cohen as the theme music to his hit Showtime series, Who Is America? DJ Shub's debut solo full-length album War Club, released in December 2020, is an epic, guest-stacked 19-track concept album with a narrative through line that connects the contemporary Indigenous struggle in Canada with the Black Lives Matter movement in the US. "The war club is a weapon that was used back in the day by Mohawks — it's a club with a big wooden knuckle on the end of it," he says. "I wanted to tell a story about a kid who gets this war club passed down to him, and now he has to use it in these times. But instead of using it in a violent way, he uses it through music — music is the weapon. Once these collaborators started putting their lyrics to my songs, that's when the scope of the whole thing came to be."
Instagram | Facebook | Twitter | Spotify | Apple Music
••
COVID-19 MATTERS
While attending CBC MUSIC JUNOfest shows, you must abide by the policies of any of the venues hosting any portion of CBC MUSIC JUNOfest, including their policies related to COVID-19, as well as any of CARAS' COVID-19 policies in place from time to time. Failure to abide by such policies may result in the venues and/or CARAS taking remedial action against you, including prohibiting you from attending the event and/or removing you from the premises. Refunds will not be issued should you be removed from the event or any premises (or prohibited from attending) for any reason, including for failing to abide by applicable COVID policies and protocols.
••
General Admission 19+ event. Valid government issued photo ID is required in order to enter. Artists and event schedule subject to change. Event subject to change in support of evolving public health protocols.