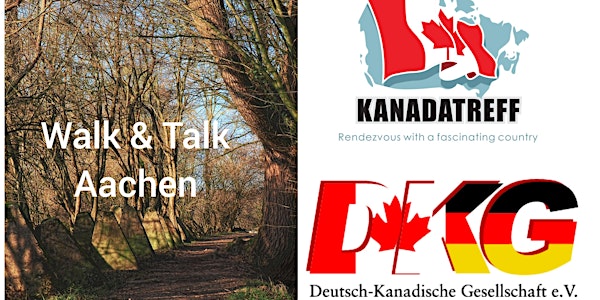 DKG Walk & Talk Aachen
When and where
Location
Aachen Augustinerweg Augustinerweg Bushaltestelle Linie 14 / Bus stop line 14 52076 Aachen Germany
Description
WALK & TALK in Aachen am 25. Mai 2019
Die Regionalgruppe Aachen der Deutsch-Kanadischen Gesellschaft und der Kanadatreff Aachen laden am Samstag, 25. Mai um 11:30 Uhr zum Walk & Talk ein. Treffpunkt ist die Bushaltestelle Augustinerweg (Linie 14, zu erreichen von Aachen Hbf sowie von Aachen Bushof. In unmittelbarer Umgebung gibt es auch einen Parkplatz.
Die 6,2km lange Wanderung führt streckenweise über naturbelassene Pfade und Wege. Es ist daher ratsam, festes Schuhwerk und der Witterung angemessene Kleidung zu tragen. Wir benötigen ca. 1,5 -2 Stunden und kehren danach gegen 13 - 13:30 Uhr im Café des ,,belgisch-deutschen Verein KuKuK - Kunst und Kultur im Köpfchen" ein. Unser Weg führt uns vorbei an Zeitzeugen wie der Höckerlinie, knorrigen Buchenreihen und Zyklopensteinen. In ungezwungener und lockerer Umgebung haben wir Zeit uns auszutauschen, neue Ideen zu sammeln und Pläne zu schmieden. Je nach Wetterlage können wir uns im Café des KuKuK, im ehemaligen deutsch-belgischen Zollhaus, bei Kaffee, Kuchen und kleiner Küche aufwärmen oder erfrischen. Wir bitten um baldmögliche Anmeldung bis zum 24. Mai.
Die Route: https://www.outdooractive.com/de/route/themenweg/eifel/rundroute-koepfchen-grenzrouten-/8109124/
Um eine gute Planung zu ermöglichen, würden wir auch eine WhatsApp-Gruppe erstellen, in dem man sich untereinander auch schon vorher austauschen kann, um somit mögliche Fahrgemeinschaften zu organisieren oder andere offene Fragen klären kann. Die Info zur WhatsApp-Gruppe erhaltet ihr nach der Anmeldung.
WALK & TALK in Aachen on May 25, 2019
The Regional Group Aachen of the German Canadian Association and the Kanadatreff Aachen invite you to walk & talk on Saturday, May 25 at 11:30 am. Our meeting point is the bus stop Augustinerweg (line 14, reachable via Aachen Hbf and Aachen Bushof). There is also a parking lot in immediate vicinity.
The 6,2km long hike leads in parts along natural trails and paths. It is therefore advisable to wear sturdy shoes and clothing suitable for the weather. We need approx. 1.5 -2 hours and then stop at the café of the "Belgian-German association KuKuK - Kunst und Kultur im Köpfchen" around 13 - 13:30 pm. Our way leads us past contemporary witnesses such as the hump line, gnarled rows of beech trees and cyclopean stones. In an informal and relaxed environment we have time to exchange ideas, collect new ideas and make plans. Depending on the weather, we can warm up or refresh ourselves in the Café des KuKuK, in the former German-Belgian customs house, with coffee, cake and small kitchen. Please register as soon as possible until May 24.
The route: https://www.outdooractive.com/de/route/themenweg/eifel/rundroute-koepfchen-grenzrouten-/8109124/
We also would like to create a WhatsApp-group so that all interested participants can exchange before. So also carpools can be formed. It might also help to receive some further details and answer questions. The info concerning the WhatsApp group will be sent together with your registration.