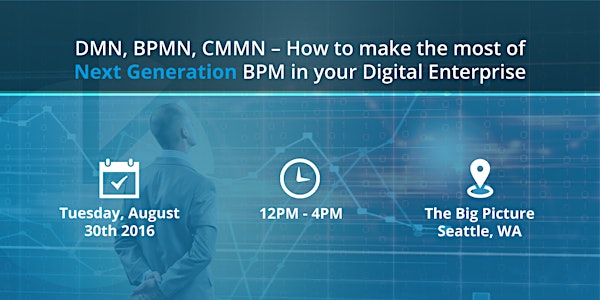 DMN, BPMN, CMMN – How to make the most of Next Generation BPM in your Digital Enterprise
When and where
Location
The Big Picture 2505 1st Ave Seattle, WA 98121
Description
Digital Transformation is inevitable, are you ready? It's definitely a team effort, not a solo activity. Next-generation BPM (and applications) that support cross-organizational communication and process standardization will define the future of digital business. Join us in our workshop, Tuesday August 30th 12PM- 4PM PDT, to learn what the experts are saying about digital transformation, and get a personal view of how Next generation BPM (BPMN, CMMN & DMN) are enabling stakeholders across the organization to bridge gaps and collaborate on the business transformation process.
You'll also get to see how the leading edge of digital transformation enablement (leveraging visualization of process, case, and decision management) can be used to streamline the innovation, transformation and continuous improvement of your organization.
The real value of this 4-hour workshop comes in the dialog you have with other participants and the sharing of ideas, experiences, and plans… So stay after and join us for a free drink and a bit of mingling!
Target Audience: Business Users, Business Heads, and IT Users.
Like we said, it's a team effort. This event is for all stakeholders in the organization. If you're involved in the process improvement or digital transformation processes of your organization and want to learn about the challenges and solutions of Digital Transformation, come and join us!