Location
Lee's Palace
529 Bloor Street West
Toronto, ON M5S 1Y5
Canada
Description
2017 marks 15 years of Do Right Music supporting Canadian soul music. To celebrate, we're throwing a series of events throughout the year, beginning with a springtime revue at Lee's Palace.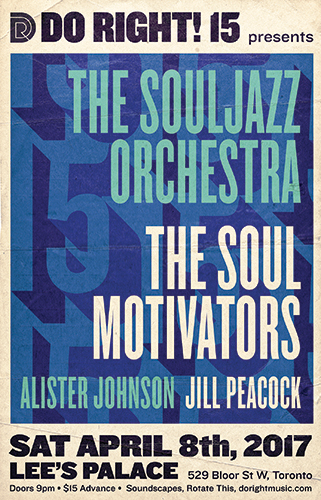 The Souljazz Orchestra - For the past decade, the Souljazz Orchestra has never stopped pushing the limits of their signature sound: an explosive clash of Soul, Jazz, Afro, Latin and Caribbean styles, unleashed by blaring majestic horns, dusty vintage keyboards, and an arsenal of earthquaking percussion. Known for their electric live shows, SJO have been on tour endlessly in support of 2016's 'Resistance', playing across Europe, North America and Africa.
The Soul Motivators are best known for shattering stages with a bombastic 9 piece assault that's guaranteed to get your body moving. They have brought their high octane live show to stages with Grandmaster Flash, Lee Fields and The Expressions, and Third Coast Kings, also performing at Panamania for the Pan-Am Games and being featured at TED x Toronto.
Alister Johnson is a staple of the Toronto DJ community. He's also an in demand studio engineer and producer, working with the likes of Dinamo Azari (Azari & III), and Zaki Ibrahim. After dropping his 'Broken Body' EP in 2015, he's been getting international attention, and was recently featured in the best selling Radio Nova's Legrandmix 2016 compilation.
Jill Peacock is Do Right Music's latest signing. Born in Toronto and based in Brooklyn, Jill combines, soul, R&B, jazz and electronic music into a unique blend all her own. For the past few years, she has been known as the lead vocalist for the jazz-fusion band aStridd, performing all over Toronto and New York, both with the band and as a solo artist.