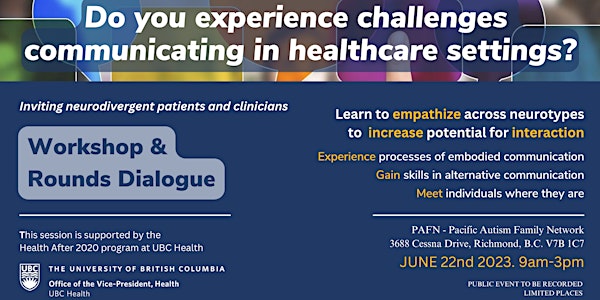 Do you experience challenges communicating in healthcare settings?
Learn to empathize across neurotypes to enhance communication in healthcare settings.
By UBC Health After 2020 & Dialogica UK
Date and time
Thu, Jun 22, 2023 9:00 AM - 3:00 PM PDT
Location
Pacific Autism Family Network 3688 Cessna Drive Richmond, BC V7B 1C7 Canada
Refund Policy
Contact the organizer to request a refund.
Eventbrite's fee is nonrefundable.
Agenda
9:30 AM - 11:30 AM
PRISMA workshop: interacting across differences
---
You will be invited to interact in small groups, through a structured, gentle activity that will allow you to gain awareness of dynamics of participation.
11:30 AM - 12:10 PM
lunch – barbecue on the terrace
12:10 PM - 1:45 PM
Rounds dialogue: The Autism Dialogue Approach®
---
After a 20-30 minute introduction to the Autism Dialogue approach, we will enter into a generative dialogue in which all can participate.
1:45 PM - 2:45 PM
Plenary and discussion
About this event
Inviting neurodivergent patients and healthcare providers who would like to increase the fruitfulness of interactions in healthcare settings.
You will participate in a workshop and a dialogue to:
- Experience processes of embodied communication
- Gain skills in alternative communication
- Meet individuals where they are
ALL ALTERNATIVE COMMUNICATION METHODS WELCOME.
This event is funded by the Health After 2020 program at UBC Health. Health After 2020 enables researchers to engage in interdisciplinary and cross-institutional projects that support, challenge, and improve health producing systems. These collaborations are intended to respond to the broad effects of the COVID-19 pandemic and further our understanding of the determinants and experience of health and wellbeing.
Reframing dialogue through embodied approaches: surpassing barriers to health in a verbal world
Some form of dialogue is often the first point of entry in health assessments and clinician-patient interactions. Dialogue is generally presumed to require verbal reciprocity. This project will explore more embodied forms of dialogue.
Dr. Hanne De Jaegher has developed a process of embodied communication (PRISMA) that enables participants to learn about ways of communicating that do not require spoken words. This process could be extended to assist clinicians and those from or working with equity deserving populations when verbal language proves to be a barrier to care.
The Autism Dialogue Approach® (Jonny Drury) is a safe, structured approach to communicating across neurotypes, especially among autistic and non-autistic people in their families, workplaces and communities. By using a set of easy-to-learn practices in a safe and confidential group, led by skilled facilitators, participants get to know themselves, each other and more about autism and other lives affected. ADA has been seen to positively affect participants and many return to enhance their time in a growing worldwide community of ADA Practitioners.
This workshop provides an opportunity for participants to learn about ways the body knows, experience processes of embodied communication, and gain skills in beginning conversations with patients who may struggle with spoken language. This will enable those participating in health interactions to meet one another where they are, and increase possibilities to engage in novel ways of interacting.
Collaborators:
- Anamaria Richardson, Clinical Assistant Professor and Community Based Pediatrician, Department of Pediatrics, Faculty of Medicine, UBC
- Jonathan Drury, CEO, Dialogica UK; Founder, Autism Dialogue
- Hanne De Jaegher, Associate Professor, Department of Philosophy, University of the Basque Country (Spain); Co-director, Dialogica UK
- Erika Ono, PhD candidate, School of Social Work, Faculty of Arts, UBC
- Karyn Thompson, Patient and Family Care Consultant
- Sergio Cocchia, Board Chair and President, Pacific Autism Family Network
- Tom Scholte, Professor, Acting and Directing, Department of Theatre and Film, Faculty of Arts, UBC
Find out how to get there on Google Maps
Frequently asked questions