Description
DOC TALKS: The Indie Way
Rethinking the steps to independent distribution.
Registration is now open! On April 26, join us for a full day producer's workshop with the industry's best speaking on self-distribution, festival strategy, and innovative funding.
WHERE - 192 Spadina Ave Ground Floor "Atrium", Toronto ON M5T 2C2
WHEN - Friday, April 26th: 9:00am - 3:00pm
PRICE - Free for DOC Members and LIFT Members, $10 for Non-Members
---
PROGRAM SCHEDULE
9:30 am – 11:00 am – The Roadmap to Creative Distribution
Late last year, DOC was extremely proud to launch The Roadmap to Creative Distribution. Intended as a travel guide for filmmakers from all backgrounds and levels of experience, The Roadmap was researched and written by documentary filmmaker Chanda Chevannes.
Join Chanda as she walks us through the lessons learned during her research on creative distribution, including the best practices offered by documentary filmmakers from across Canada. Like The Roadmap itself, this workshop will offer practical information, ideas, and insights into how independent filmmakers can have more control over—and success with—the distribution of their films.
11:15 am – 12:45 pm – Mastering the Festival Launch
For the producer seeking a path to market through film festivals, pragmatic and informed decisions must be made. Leveraging festivals for sales, marketing or distribution is not a "one-size" fits all endeavour. Sean Farnel will present an overview of film festival distribution strategies and DOC's refreshed Festival Concierge service prior to being joined by producers Christine Kleckner (A BETTER MAN) and Caitlin Durlak (MERMAIDS) to discuss their experiences with the festival circuit.
12:45 pm – 1:30 pm – Catered Lunch
1:30 pm – 3:00 pm – Meet the Funder: Seed & Spark
Crowdfunding to Build Independence - Learn the tools for creative independence by studying the techniques of successful crowdfunding campaigns: how to identify your audiences, bring them on board as followers and eventual funders, build meaningful partnerships to scale your reach, and create the most enticing possible pitch to audiences.
---

MEET THE SPEAKERS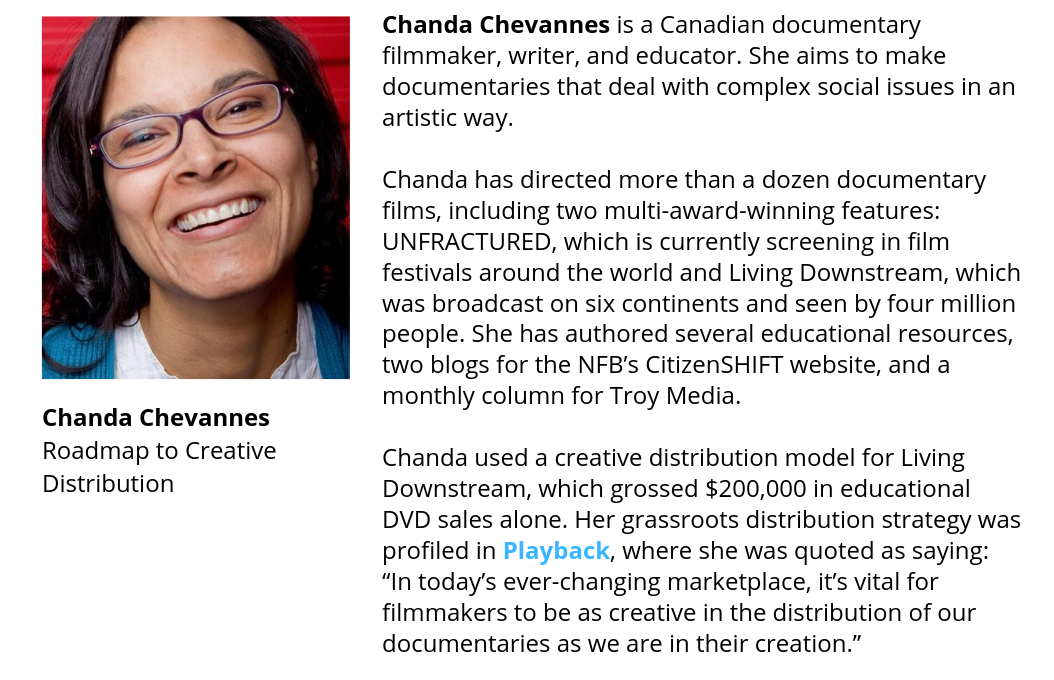 ---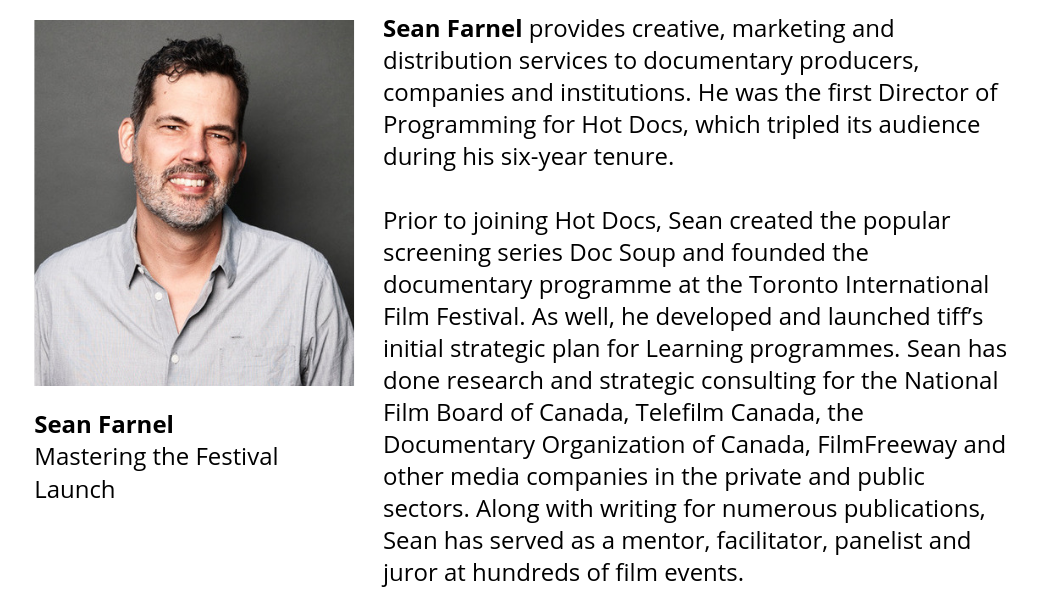 ---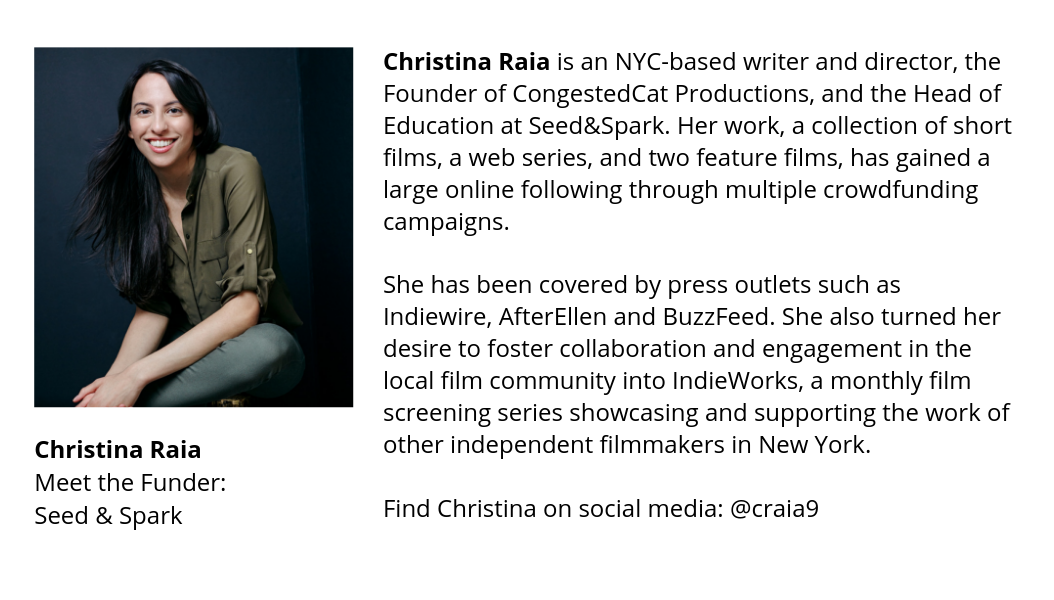 ---
DOC TALKS : Être indépendant
Imaginer de nouvelles voies vers la distribution indépendante
Les inscriptions sont ouvertes ! Vendredi 26 avril prochain, joignez-vous à nous et aux meilleurs intervenants de l'industrie pour un atelier de producteurs d'une journée complète portant sur l'autodistribution, la stratégie pour les festivals et le financement novateur.
OÙ - 192, Avenue Spadina, rez-de-chaussée à l'Atrium, Toronto, M5T 2C2
QUAND - Vendredi 26 avril, de 9 h à 15 h
TARIF - GRATUIT pour les membres de DOC et de LIFT, 10 $ pour les non-membres
---
9 h 30 à 11 h : Le chemin vers la distribution créative
À la fin de l'année dernière, DOC a été extrêmement fier de publier Le chemin vers la distribution créative. Écrit par la documentariste et auteure Chanda Chevannes, c'est un guide destiné aux cinéastes de tout horizon et de niveaux d'expériences divers.
Laissez-vous guider par Chanda à travers les leçons apprises durant sa recherche sur la distribution créative et les bons conseils des documentaristes du Canada. Comme Le Chemin… lui-même, cet atelier vous donnera des informations pratiques, des idées et des conseils sur la façon dont les cinéastes indépendants peuvent gagner davantage de contrôle et de succès par la distribution de leurs films.
11 h 15 à 12 h 45 : Maîtriser le circuit des festivals
Pour le producteur souhaitant faire son chemin vers les festivals, des décisions pragmatiques et bien documentées sont nécessaires. On ne peut pas se baser sur une approche universelle pour réussir à tirer profit du circuit des festivals, chacun nécessite une stratégie taillée sur mesure.
Sean Farnel fera un survol des stratégies de distribution pour les festivals et présentera la nouvelle version du Festival Concierge de DOC. Il sera ensuite rejoint par les producteurs Christine Kleckner (A Better Man) et Caitlin Durlak (Mermaids) pour discuter de leurs expériences dans le circuit des festivals.
12 h 45 à 13 h 30 : Repas
13 h 30 à 15 h : Rencontrez les financeurs : Seed&Spark
Le financement participatif pour développer votre indépendance - Apprenez à utiliser les outils d'une création indépendante en étudiant les techniques pour un financement participatif réussi : comment identifier votre public, l'entraîner avec vous pour qu'il devienne éventuellement votre financeur, comment construire une relation significative avec vos partenaires pour augmenter vos chances de rejoindre votre public et comment développer l'argumentaire le plus convaincant qui soit pour votre public.
---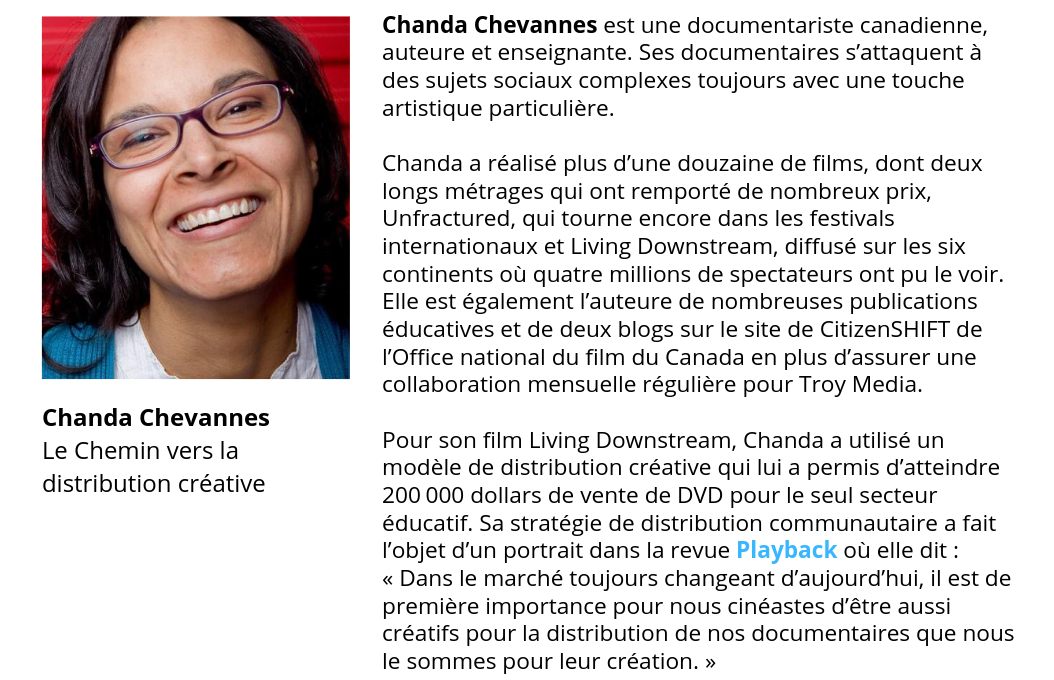 ---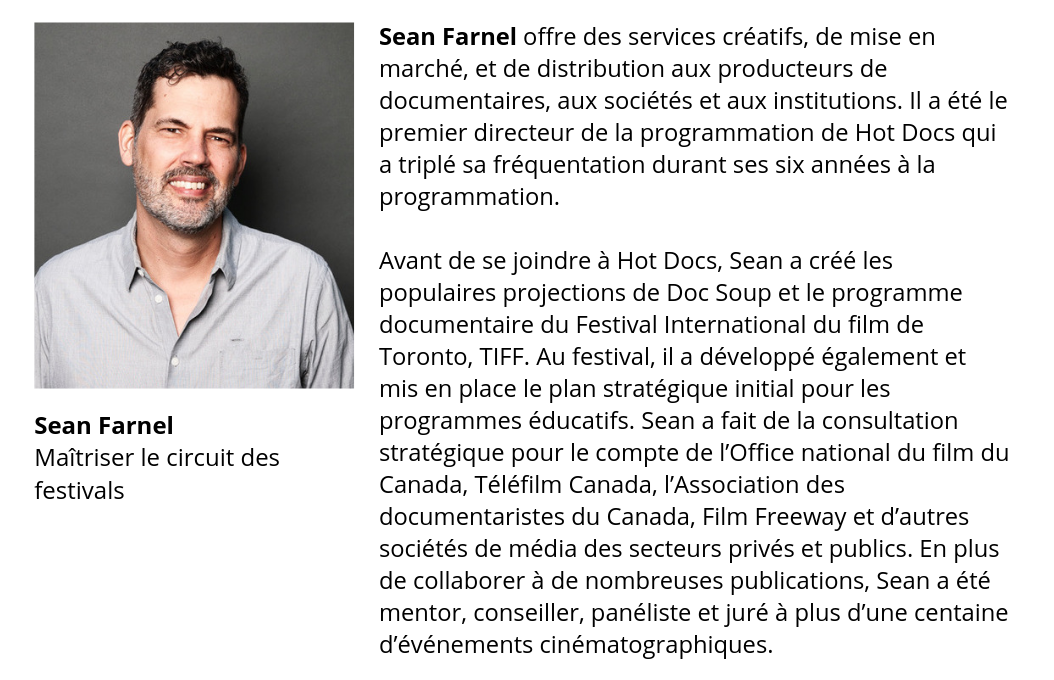 ---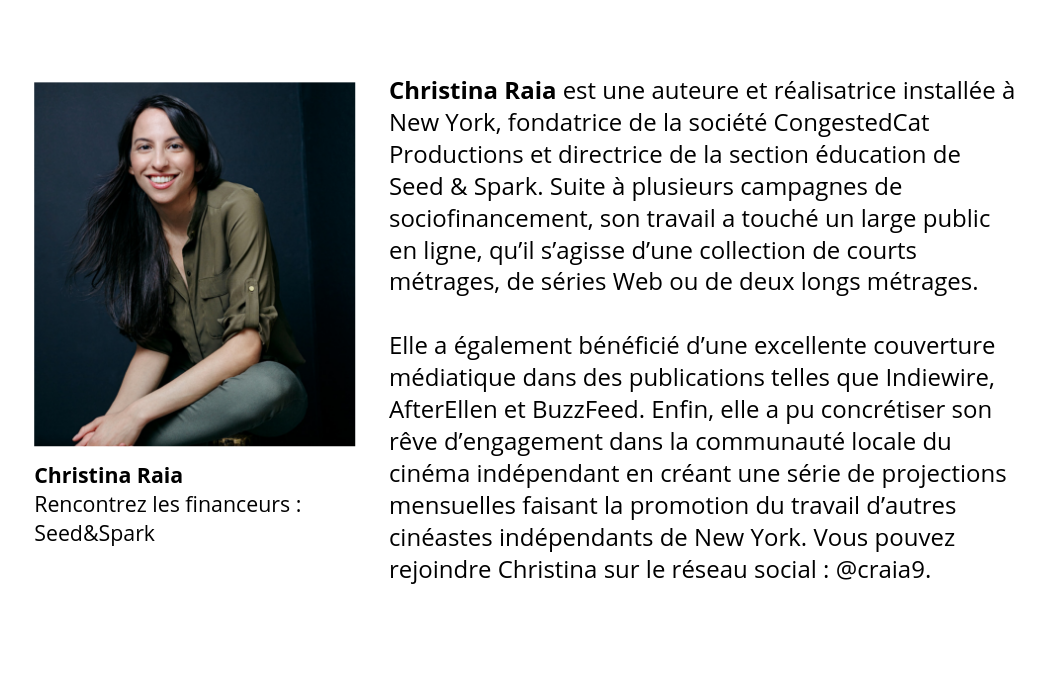 ---
Thank you to our sponsors:


We acknowledge the support of the Canada Council for the Arts.
Nous remercions le Conseil des arts du Canada de son soutien