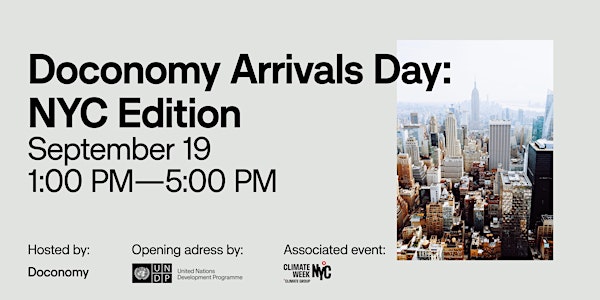 Doconomy Arrivals Day: NYC Edition
Kicking off Climate Week NYC and the opening of the General Assembly, Doconomy invites to Arrivals Day, with the support of partner SACCNY.
When and where
Location
SACCNY 900 3rd Avenue #29th floor New York, NY 10022
About this event
Through the lens of payment tech, finance, policy, media and science we will explore the future and how to create action now.
Meet Mastercard, Amalgamated Bank, Patch, Klarna and many others for a day of inspiration, collaboration, and most of all urgent action to some of the most important questions related to the future of the planet.
Looking forward to meet-up, engaging and accelerating!
AGENDA:
1:00 PM Welcome to Arrivals Day by Assistant Secretary General of UNDP
1:10 PM Panel: COP27
With COP27 coming up, there's a need to accelerate and deliver on the roadmap to a resilient, 1.5°C future within our reach. What are the actions we can hope for? How are financial services expected to contribute?
1:40 PM Panel: Consumer Behavior
With large influence over where money flows and people's lives come responsibility. How can banks facilitate and manage consumer climate engagement that is relevant for the consumer, the planet and the business?
2:10 PM Panel: Economy
As global economies struggle with inflation, financial institutions play a key role in the 1.5°C-Transition. How can these actors address macroeconomic headwinds, with transparency at heart and spark the action we need to keep the 1.5°C-target alive?
2:40 PM Interview: Media in Climate
Medias' role in climate action, to bring hope and uncover the truth about climate claims and action. When is language a barrier for action and how can media contribute at best to not exclude through sustainability language?
3:00 PM Panel: Business Models
Increased investment and favorable policy are not enough to reach Net Zero – it is creative business models that often have the greatest impact. How can purpose-led startups help us to take action more efficiently? Meet the startups who represent the solutions we need at scale.
3:30 PM Break
3:40 PM Panel: Payment Tech
Triggering transparency through trusted payment networks on global scale, how can we also inspire action of the many? How can payments networks enable mindful consumption?
4:10 PM Panel: SMEs
Make carbon count - climate action as business imperative for SMEs. Join our conversation on how SMEs can take part in the journey towards net zero and build a resilient business.
4:40 PM Interview: Investing in Climate Action
Investing in climate action and decarbonization at speed and scale. Where carbon goes, money flows.
5:00 PM Thank you
5-6.30 PM Drinks, snacks and networking
For questions, please contact susie.klindt.noe@doconomy.com