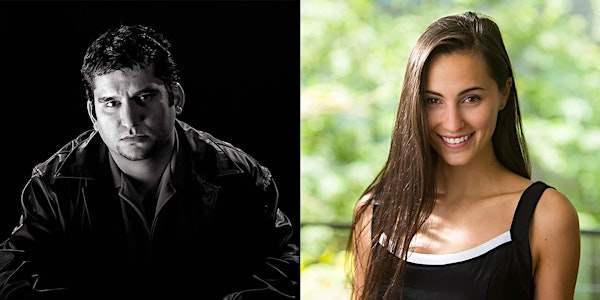 DOCUMENTARY LIGHTING ON A BUDGET with Dave Montizambert
When and where
Location
Fusion Cine 1469 Venables Street Vancouver, BC V5L 2G1 Canada
Description

Lighting Workshop with Dave Montizambert:
Documentary Lighting On A Budget


Learn how to create incredible lighting on your subjects in this in-depth session by international lighting wizard Dave Montizambert. Dave will show you how to shape your subject and scene with available light, how he forces one light to do the work of three to five, and finally, how to do the same with multiple lights and mixed light scenarios (e.g., tungsten/daylight). This workshop is a good fit for even the most non-technical mind. Dave will simplify the necessary theory & concepts required for any lighting job, but no fluff here... just solid nuts & bolts lighting information that every filmmaker should know!
From this session you will learn how to:
Create multi-light-source setups using only one light
Use multiple lights to enhance subjects
Maximize & manipulate available light situations into perfection
Master lighting basics—light placement, angling, feathering
Use light to convey mood
Use light to make your subject stand out from their environment
Exploit off colour balances rather than correcting them
Add some "balls" to your lighting when working in small light toned rooms
Create low-key and high-key dramatic lighting
Master metering & lighting ratios

When: SUNDAY, May 29, 2016
Where: Fusion Cine (1469 Venables St. Vancouver, BC)
Time: 1:00 PM - 4:00 PM
Cost: DOC BC Members $20 | Non-members $45

DOC BC gratefully acknowledges the sponsorship FUSION CINE in order to present this workshop to DOC BC Members.

Dave Montizambert
Dave Montizambert lectures internationally on lighting, digital photography, and Adobe Photoshop. He is also a published author, columnist, beta tester, and creator of training DVDs on Photoshop & photographic lighting for www.PhotoshopCafe and www.Software-Cinema in Los Angeles. Dave also authors "Learn From Dave" (www.montizambert.com) a photo blog with free lighting video tutorials and articles. He has written two books on lighting and digital photography plus is a regular columnist for Professional Imagemaker in the UK and has written numerous magazine articles in North America, Europe, Russia and Asia. Aside from education, Dave works as a commercial advertising photographer creating images for McDonald's Foods, Motorola, Toyo Tires, Tri-Star Pictures, Warner Brothers, Chevron, Cuervo Tequila, J&B Scotch, Hong Kong Bank, Tsing Tao Brewery of China, and No Fear Sports Gear, through his business Montizambert Photography Inc.