Documentary Screening & Discussion: "Grassroots in Dry Lands"

Monday, 29 February 2016 from 7:00 PM to 9:00 PM (EST)
Event Details
"Grassroots in Dry Lands"
Documentary Screening & Discussion

with
Rabbi Ed Elkin, First Narayever Congregation
Ruth Pluznick, MSW, RSW
Michal Er-El, MSW RSW

February 29, 2016 - 7PM
First Narayever Congregation
187 Brunswick Avenue, Toronto, M5S 2M4


"Grassroots in Dry Lands"
Join us for the screening of Helene Klodawsky's latest documentary "Grassroots in Dry Lands". Screening event is jointly organized by IDI GTA and First Narayever Congregation. Refreshments will be served.
Grassroots in Drylands is produced by Informaction Films in co-production with National Film Board of Canada.


THE FILM (Trailer)

Set in Palestine, Israel and Jordan, Grassroots in Dry Lands reveals a unique human-rights-based approach to democratic change taking root in neighbourhoods across the region. This intimate documentary, filmed in radiant warm light in homes, streets and community centres, takes us into the world of social workers who struggle to apply university-taught ideals to realities on the ground. They are building hope through their commitment to social change and their belief that all peoples of the region deserve the same rights.
In observational style, but with in-depth access, the film shows these skilled civil society activists at work, helping people through crises, accompanying them to official meetings, encouraging them to claim their rights, to speak out against violence and to challenge legal, political and religious forces.
Seasoned filmmaker Helene Klodawsky spent five years gaining the trust of her characters and brings her knowledge of the region to bear on the complex issues at hand. She delivers an original, unprecedented perspective on the Middle East. Rather than focus on top-down peace initiatives, the film shows how seeds planted by passionate activists and their armies of community organizers, psychologists, lawyers and volunteers are taking root and producing hope for lasting change.
ABOUT THE FILMMAKER
Helene Klodawsky is a veteran independent filmmaker and a passionate artist. Her poignant films reveal a commitment to both social and political struggles, as well as to her chosen art form. Since her first, awardwinning short, Painted Landscapes of the Times (1986), Helene has directed many independent documentaries exploring subjects as diverse as shopping malls and political murder. Screened and televised around the world, her films have received numerous honours and been extensively reviewed. In 1987, Helene made her groundbreaking film, Shoot and Cry, about the Israeli-Palestinian conflict. With Grassroots in Dry Lands, she returns to the Middle East to deliver an unprecedented perspective on the region.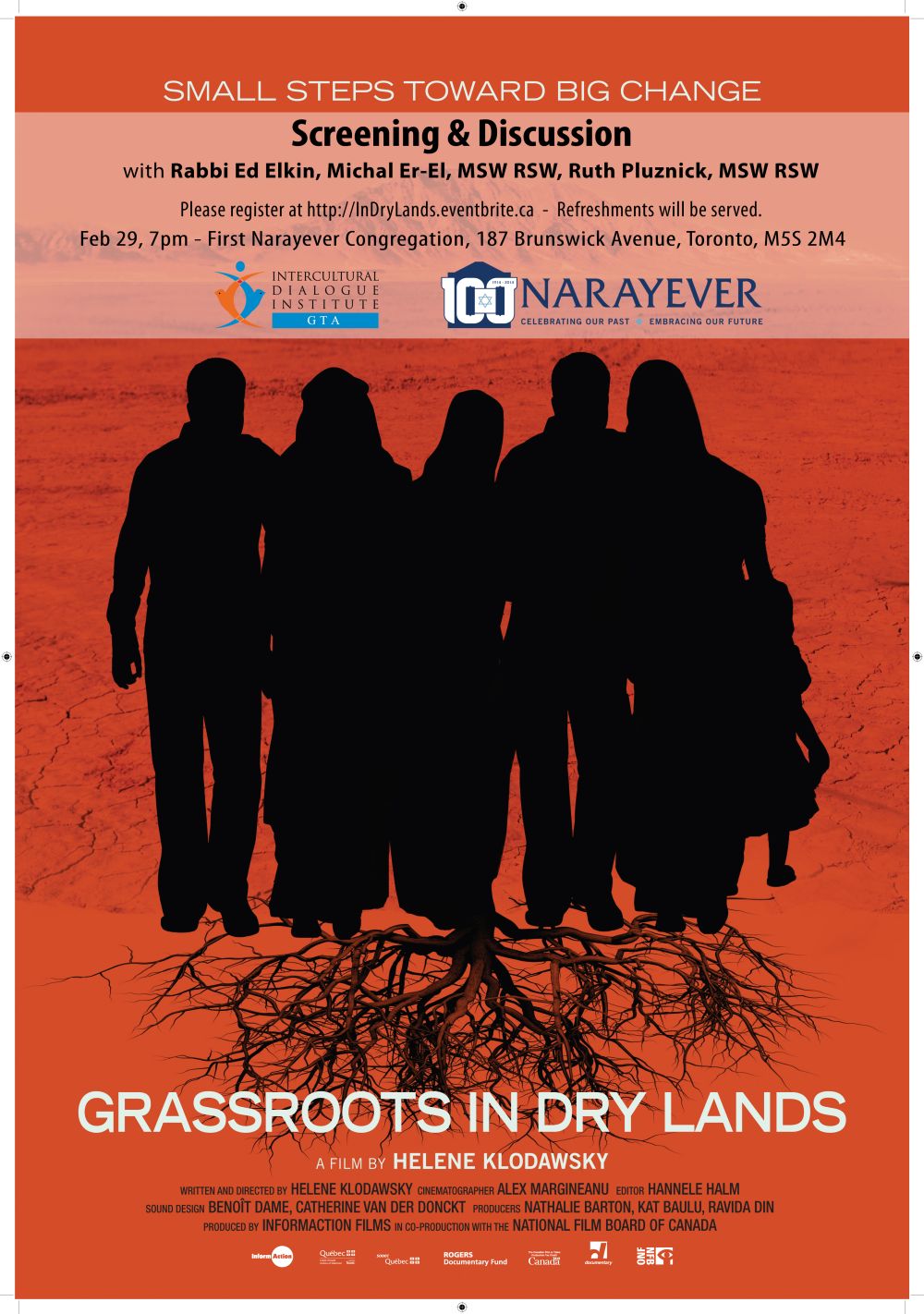 When & Where

First Narayever Congregation
187 Brunswick Avenue
Toronto, ON M5S 2M4
Canada

Monday, 29 February 2016 from 7:00 PM to 9:00 PM (EST)
Add to my calendar
Organizer
Intercultural Dialogue Institute is a non-profit organization whose purpose is to advance social cohesion through personal interaction by promoting respect and mutual understanding among people of all cultures and faiths through dialogue and partnership.
Intercultural Dialogue Institute aims to promote enduring interfaith and intercultural cooperation, tolerance and dialogue by sharing our differences and similarities in an effort to enhance civil society, to promote the development of human values, and to advance diversity and multiculturalism in the society. The Institute aims to eliminate or reduce false stereotypes, prejudices and unjustified fears through direct human communication. By this mission IDI aims to contribute to improvement of diversity, pluralism and multiculturalism throughout Canada.
IDI was formed in 2010 as a joint effort of several organizations and currently have 11 chapters* and regional offices in major cities of five Canadian provinces.
* GTA branch of IDI was established with the name Canadian Interfaith Dialogue Centre in 2004. Until July 2013 it had been known as Intercultultural Dialogue Institute (IDI) Toronto. In July 2013 it was re-branded as IDI GTA to represent the whole Greater Toronto Area.
Refund Policy: you can get a full refund if you cancel at least 72 hours before the event. If you cancel within 24 to 72 hours before the event, the refund amount is 50% of the ticket price. No refund will be issued for cancellations within 24 hours before the event or anytime after the event.