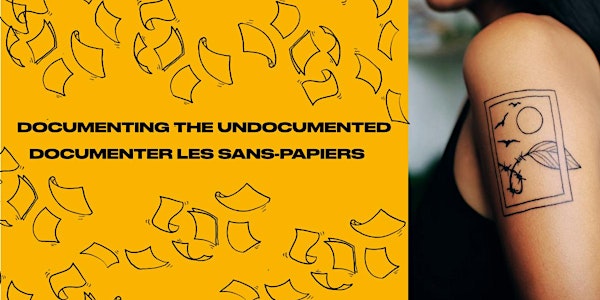 Documenting the Undocumented - Art exhibit and walking tour
Highlighting the realities of undocumented migrants through art and action/Mettre en lumière les obstacles des sans papiers a travers l'art
When and where
Location
Galerie SAW Gallery 67 Nicholas Street Ottawa, ON K1N 7B9 Canada
About this event
Le Français suivra
Join us for an evening of music, art, performance, and stories from migrants, artists and community organizers to walk us through various aspects of the unique journey, barriers and resilience of migrants living with precarious status.
Exhibit agenda:
6pm - doors open welcoming guest
6:15pm - Welcoming words from the organizers
6:30pm - The walking tour - (French and English)
7:00pm - Live performance
7:15pm - More details about the project by the organizers
7:30 to 9pm - mingling with artists and community organizers - Music, refreshments and good vibes.
This exhibit will feature the work of 4 amazing artists:
- Feza Lugoma (@_fe.za_) is a visual artist born in Kinshasa, DR Congo, and raised in Edmonton. Her work includes photography, film and sound. Whether through art or community organizing, Feza's work is a meditation on the daily experiences of Africans within the Canadian context, exploring experiences of migration, memory and Kinship. She draws inspiration from her Congolese heritage, incorporating archival material such as photographs, video and audio sources.
- Ludmylla Reis is an interdisciplinary artist with degrees in advertising in 2008, Acting in 2014 and Directing for theatre in 2018. Their artistic focus is on hybrid storytelling techniques, which support their desires to tell stories with varied experiences and multiple points of view. As an artist, they examine the private with the public via an imaginative lens. Ludmylla believes that exploring our emotions and beliefs is a political act and that art making is a birthright to all.
- Kseniya Tsoy is a new Canadian community-engaged artist and a recipient of Newcomer Arts Award from Toronto Arts Foundation. As a person of mixed heritage born in Uzbekistan, cultural diversity is a great inspiration behind her work that is dedicated to a visual exploration of complex cultural identities and is inspired by folk motifs from diverse cultures that influenced her growing up. Her style is a fusion of Middle Eastern miniature and East Asian ink paintings - characterized by a strong preference for elegant and stylized subjects integrated with vibrant colours and exotic patterns infused with nomadic symbolism.
- Tchayé (they/them), a west-African photographer and multidisciplinary artist, based in Ottawa since 2018. They started photography and videography at the age of 13 and since then, expressing their creativity and thoughts through different art mediums has been a passion. They love having photography projects that stand out and convey a strong message and give people a new way of seeing things. They like mixing different art medium in their projects to give them more depths and meaning. They are looking forward in this journey to inspire others and advocate in the community.
This exhibit is made possible thanks to our partners and funders : Gallery 101, SAW Gallery, House of Paint, Migrante Ottawa, ACFO Bilingual Ottawa and Canadian Heritage, The Ontario Art Council, Desjardins, The school of Elizabeth Bruyere of Social Innovation at Saint Paul University, The University of Ottawa, and the Atelier of Social Innovation of Mauril Belanger.
Please check out the website of the project here to find out more about our project: https://documentingtheundocumented.com
French will follow
Joignez-vous a nous pour une soirée de musique, d'art, de performance et d'histoires d'immigrants, d'artistes et d'organisateurs communautaires pour nous faire découvrir divers aspects du parcours unique, des obstacles et de la résilience des immigrants vivant avec un statut précaire.
Ordre du jour de l'exposition :
18h00 - ouverture des portes, accueil des invités
18h15 - Mots de bienvenue des organisateurs
18h30 - La visite à pied - (français et anglais)
19h00 - Spectacle vivant
19h15 - Plus de détails sur le projet par les organisateurs
19h30 à 21h - Rencontre avec les artistes et les organisateurs communautaires - Musique, rafraîchissements et bonnes vibrations.
Cette exposition présentera le travail de 4 artistes fantastic:
- Feza Lugoma (@_fe.za_) est une artiste visuelle née à Kinshasa, en République Democratique du Congo, et élevée à Edmonton. Son travail comprend la photographie, le film et le son. Que ce soit à travers l'art ou l'organisation communautaire, le travail de Feza est une méditation sur les expériences quotidiennes des Africains dans le contexte canadien, explorant les expériences de migration, de mémoire et de parenté. Elle s'inspire de son héritage congolais, incorporant des documents d'archives tels que des photographies, des vidéos et des sources audio.
- Ludmylla Reis est une artiste interdisciplinaire diplômée en publicité en 2008, en théâtre en 2014 et en mise en scène pour le théâtre en 2018. Leur intérêt artistique se porte sur les techniques de narration hybrides, qui soutiennent leurs désirs de raconter des histoires avec des expériences variées et des points de vue multiples. En tant qu'artiste, Ludmylla examine le privé avec le public via une lentille imaginative. Ludmylla pense que l'exploration de nos émotions et de nos croyances est un acte politique et que la création artistique est un droit de naissance pour tous.
- Kseniya Tsoy est une nouvelle artiste canadienne engagée dans la communauté et a reçu le Newcomer Arts Award de la Toronto Arts Foundation. En tant que personne d'origine mixte née en Ouzbékistan, la diversité culturelle est une grande source d'inspiration pour son travail, qui est consacré à l'exploration visuelle d'identités culturelles complexes et s'inspire de motifs folkloriques de diverses cultures qui l'ont influencée pendant son enfance. Son style est une fusion de miniatures du Moyen-Orient et de peintures à l'encre d'Asie de l'Est, caractérisée par une préférence marquée pour les sujets élégants et stylisés intégrés à des couleurs vives et des motifs exotiques imprégnés du symbolisme nomade.
- Tchayé (they/them), photographe et artiste multidisciplinaire ouest-africain, basé à Ottawa depuis 2018. Tchaye a commencé la photographie et la vidéographie à l'âge de 13 ans et depuis, exprimer leur créativité et leurs pensées à travers différents médiums artistiques est leur passion. Ille aime avoir des projets de photographie qui se démarquent et transmettent un message fort et donnent aux gens une nouvelle façon de voir les choses. Ille aime mélanger différents supports artistiques dans leurs projets pour leur donner plus de profondeur et de sens. Ille espère que ce voyage leur permettra d'inspirer les autres et de défendre les intérêts de la communauté.
Cette exposition est rendue possible grâce à nos partenaires et bailleurs de fonds : Gallery 101, SAW Gallery, House of Paint, Migrante Ottawa, ACFO Bilingual Ottawa et Patrimoine canadien, le Conseil des arts de l'Ontario, Desjardins, l'école d'innovation sociale Elizabeth Bruyere de l'Université Saint-Paul, l'Université d'Ottawa et l'Atelier d'innovation sociale de Mauril Belanger.
Veuillez consulter le site web du projet ici pour en savoir plus sur notre projet : https://documentingtheundocumented.com.