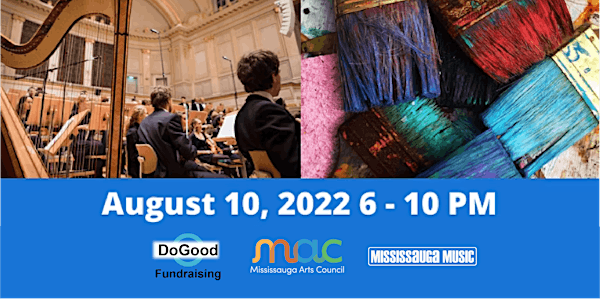 DoGood Fundraising Artist Gathering LIVE Event
DoGood Fundraising, MAC, and Mississauga Music are teaming up to host a free artist gathering (LIVE event) focused on revenue generation.
When and where
Location
West Edge Church 157 Lakeshore Road West Mississauga, ON L5H 1G3 Canada
About this event
AGENDA
6:00pm Arrival at West Edge Church, 157 Lakeshore Rd W, Mississauga, ON
Welcome address
Mississauga Arts Council Panel, featuring:
Colleen Snell @froginhand
Cathleen MacDonald https://mpeproductions.ca/
Sanna Wani @sannawani
Mississauga Music Panel, featuring:
Heather Christine, @heatherchristinemusic
Mike Cannz, @mikecannz
Kendruh, @iamkendruh
DoGood Fundraising - artist grants
Networking and social gathering at local pub (located on Lakeshore Rd)
About the DoGood Fundraising Artist Gathering
Join DoGood Fundraising, Mississauga Arts Council and Mississauga Music as we bring together artists for an evening of learning how to earn more revenue. We will host a variety of speakers from the art sphere, who will share their successful fundraising and development strategies. We will also provide networking opportunities for our attendees, allowing artists to foster new connections with one another.
Note: Unfortunately, there is no live-streaming or Zoom option available for the LIVE event.
This event is supported through Mississauga Arts Council's TD Culture Lab professional development program
About DoGood Fundraising
DoGood Fundraising offers grant writing services, funder research, consulting, and professional development workshops for nonprofits, charities, and artists. Our team is an experienced group of grant writers who have collectively won over $5.5 million in grants.
For more information about DoGood or to access our services, please visit our website: http://dogoodfundraising.ca
About Mississauga Arts Council
The Mississauga Arts Council is a registered charity, dedicated to accelerating progress toward the attainment of our vision of Mississauga as a vibrant cultural community where arts and culture thrive! Our mission is to empower the Arts Economy by: creating more opportunities and capacity; connecting artists to audiences and each other; and celebrating artists' achievements.
About Mississauga Music
Mississauga – the 6th largest city in Canada – boasts a growing music scene with immense potential. Having been the launching pad of international success stories such as Billy Talent, illScarlett, Jill Barber, Rick Emmett, Rich Kidd, Suzie McNeil and Triumph to name a few, there is a new generation of emerging local talent. Our vision is to bring together and nurture Mississauga's community of musicians, businesses, venues, promoters, creatives and the likes. We aim to create an integrated platform that will feature the next wave of artists in effort to highlight our city on a national scale. Mississauga Music is all about showcasing the best from Mississauga's music community.
Disclaimers & More Information
Space is limited. Registration for this event is first-come, first-served. If you require any accommodations to register or to ensure your full participation in this event, please email us at info@dogoodfundraising.ca.
Screenshots, photographs, and video recordings may be taken during this event. Your image may be used in publications for promotional and educational purposes or published on the Internet. By registering for any of our events, you understand and acknowledge that your image may be taken and used at our discretion. Should you prefer not to have your photo included in communications, we ask you to indicate your preference.