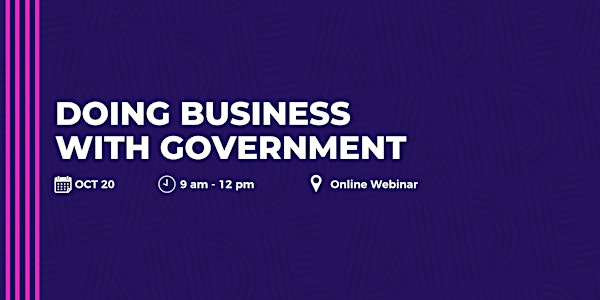 Doing Business with Government
Join this webinar to learn how to do business with the Government and ask our presenters questions.
About this event
Are you interested in learning how to do business with Government?
IDEA Mississauga is hosting a Doing Business with Government online webinar in partnership with Procurement Assistance Canada , Government of Ontario, the Region of Peel and the City of Mississauga to help inform businesses about their respective procurement processes, how you can access these million and billion dollar marketplaces, compete for government opportunities and to ask the presenters questions.
Note: Speaker panel subject to change. This session will not be recorded.
Location - Online (Webex)
Registration in advance is required to attend this event.  Register Today!
A Webex link will be emailed to all participants prior to the event start time. If you have any questions, please contact our events team at idea.events@mississauga.ca
Hosted and Presented By
IDEA Mississauga, Economic Development, Small Business & Entrepreneurship Division, City of Mississauga, is your central source for small business information, resources and guidance.  ideamississauga.ca  905-615-4460 IDEA@mississauga.ca @IDEAmississauga -  Instagram | Twitter | LinkedIn | Facebook