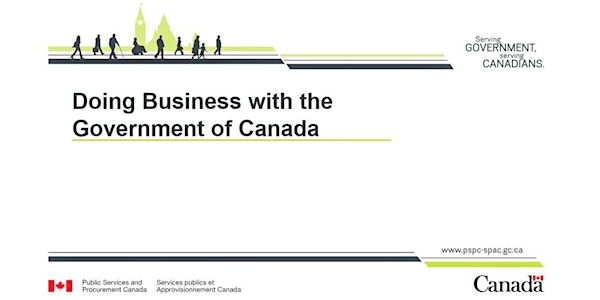 Doing Business with the Government of Canada - Seminar/ Webinar
Free information session on how the Government of Canada buys goods & services and how your company can be a supplier/ vendor.
About this event
Are you interested in doing business with the Government of Canada?
The Government of Canada purchases $22 billion of goods and services each year. This seminar provides key information about how to sell to the Government of Canada that will help you learn how to:
•Find out whether the Government of Canada buys your good or service
•Understand the contracting process
•Register in supplier databases
•Build networks and promote your business
•Search for opportunities
•Take advantage of the procurement information on Buyandsell.gc.ca
•Understand the security clearance process
•Bid on opportunities
This information is presented in English, only. Participants may register to attend in-person or online via the webinar.
Organizer of Doing Business with the Government of Canada - Seminar/ Webinar
The Office of Small and Medium Enterprises (OSME) at Public Services and Procurement Canada (PSPC) works to encourage the participation of small and medium enterprises (SMEs) in federal government procurement and advocates on their behalf to improve procurement processes.
OSME offers free information services through seminars and webinars, and group or one-on-one sessions on how the government buys goods and services.
OSME can show you how to find bidding opportunities and how to use available procurement data to identify potential business partners. It can also show you how to promote your goods and/or services to departments and agencies.