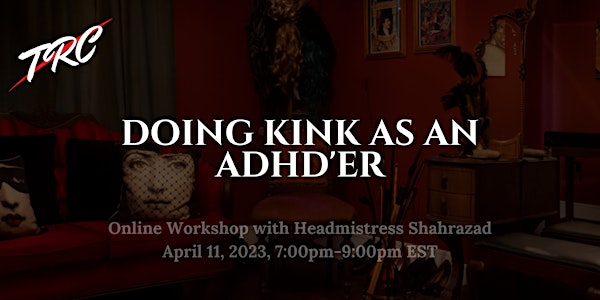 Doing Kink as an ADHD'er
This humorous new workshop delves into the unique blessings and challenges that ADHD presents to someone in the BDSM lifestyle
About this event
Doing Kink as an ADHD'er
Are you or is a play partner of yours a kinky ADHD'er? So is Headmistress Shahrazad! Join her for this humorous new workshop as she delves into the unique blessings and challenges that ADHD presents to someone in the BDSM lifestyle, bringing many helpful anecdotes from two decades of scene play to the table. Participants will learn to lean into their gifts and explore tools and tricks for getting support where they need it most, leaving with greater self-awareness to bring to future negotiations and power-based relationships.
Facilitated by: Headmistress Shahrazad
Location: Virtual through Zoom Meeting. Link will be emailed to you upon registration.
Our Fees are on a sliding scale from $20-$40. Please pay at the level you can comfortably afford:
• Pay-It-Forward Ticket ($40/person) - Please choose this option if you can afford it and would like to pay it forward so we can make discounted ticketing available to others who need it.
• Regular Ticket ($30/person) - Regular ticket price. This is what most people should pay.
• Subsidized Ticket ($20/person) - Please choose this option if the regular price would be a barrier to your participation.