Description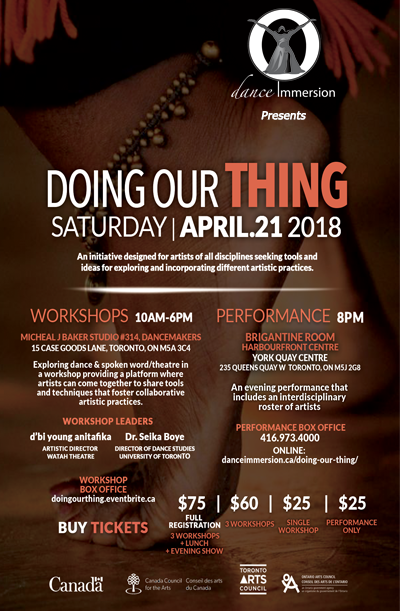 The Doing Our Thing workshop provides a mechanism where artists can come together to share tools and techniques that foster collaborative artistic practices. The 2nd edition of Doing Our Thing explores dance and spoken word/theatre.
Workshop Leaders will include, Dr. Seika Boye, Dance/Movement and d'bi young anitafika, Artistic Director WATAH Theatre.
The day concludes with an evening presentation by a roster of intergenerational artistic expressions.
Workshop Location: Dancemakers - MICHAEL J. BAKER STUDIO # 314 - 15 Case Goods Lane, Studio 301,
SCHEDULE
10:00am- 12:00pm: Workshop #1 - Dr. Seika Boye
12:15pm - 2:15pm: Workshop #2 - d'bi young anitafika
2:15pm - 3:30pm: Lunch (Provided to participants who have registered for lunch, participants not registered will get lunch on their own)

3:30pm - 5:30pm: Workshop #3 - Investigating movement and words in a collaborative session with d'bi young anitafika and Dr. Seika Boye
5:30pm - 6:00pm: Closing Remarks
Dinner on your own
8:00pm "Doing Our Thing" Presentation - Taking place at Brigantine Room - Harbourfront Centre located at York Quay Centre, 235 Queens Quay W.
Peformance Box Office: http://www.harbourfrontcentre.com/whatson/today.cfm?id=9886&festival_id=0
About Dr. Seika Boye
Seika is a dance scholar, artist and advocate. She is a Lecturer at the Centre for Drama, Theatre and Performance Studies and Director of the newly established research centre Institute for Dance Studies at the University of the Toronto. Seika's recent projects include movement dramaturgy for Djanet Sears' A Black Girl in Search of God (Centaur Theatre/National Arts Centre) and her SSHRC funded doctoral dissertation "Looking for Social Dance in Toronto's Black Population at Mid-century: A Historiography" was completed in 2016.
About d'bi young anitafika
Artistic Director of Watah Theatre, d'bi is a black queer feminist Jamaican theatre practitioner, Canadian Poet of Honor, YWCA Womxn of Distinction in the Arts and three-time Dora Award winning Playwright-Performer. She is the author of five books, seven dub albums, seven plays and is the front-womxn of the Afro-Dub-Fusion Band d'bi. & the 333. d'bi has toured nationally and internationally and this bio is just skimming the surface.