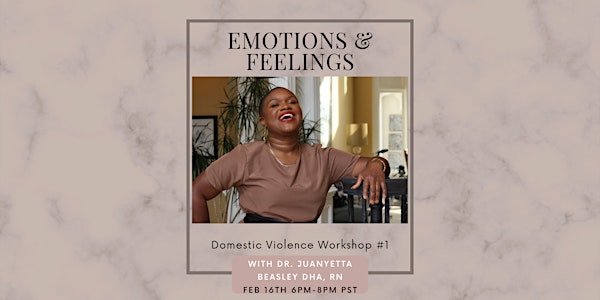 Domestic Violence Workshop #1: Emotions & Feelings
Domestic Violence Workshop #1: Emotions & Feelings with Dr. Juanyetta Beasley DHA, RN
By Support Network for Indigenous Women & Women of Colour
Date and time
Thu, Feb 16, 2023 6:00 PM - 8:00 PM PST
About this event
***TRIGGER WARNING***
Zoom link:
https://us02web.zoom.us/meeting/register/tZUuceuoqT4pG9C9aNvhasqOtN0nD4AQCn_9
This is the second installment of the "Domestic Violence Workshop series." These workshops are designed to help women heal from the lasting effects of domestic violence at any stage of their journey. There will be 6 workshops in this series, held on a monthly basis.
These workshops will be led by Dr. Juanyetta Beasley, RN, DHA, mother, and survivor of domestic violence. Dr. Juanyetta has taken her own pain and lessons she has learned through her difficult experiences, and selflessly uses it to help other women.
Please join us for the first workshop "Emotions & Feelings" on Feb 16th, 2023 from 7pm-9pm PST.
About the organizer
SNIWWOC is a non-profit organization based in Victoria & Vancouver.  We advocate for reproductive justice by creating support networks for women using  food, art, and education.