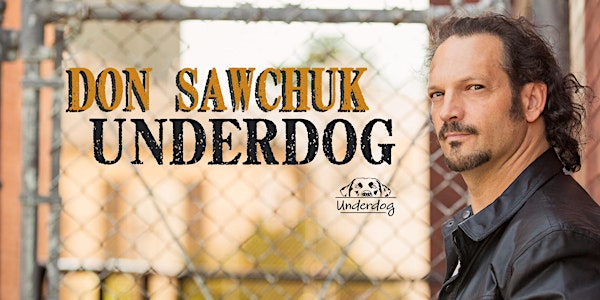 Don Sawchuk & The Underdog Band Live In Concert
Location
Heritage Hall Guelph, Ontario
83 Essex Street
Guelph, Ontario N1H 3K9
Canada
Description
Don't miss Don Sawchuk & The Underdog Band Saturday, November 10, 2018 Live In Concert at HERITAGE HALL 83 Essex Street Guelph, ON
Doors Open at 7:00 p.m.
The concert is Licensed (Beer & Wine) Snack Foods will be available. This is an all ages event all are welcome!
The concert will open with the Award Winning Film/Documentary "Let It Rock at The Crossroads of Rock'N'Roll" A perfect start to the evening and a tribute to GUELPH BLACK HERITAGE SOCIETY and those responsible for the Birth of Rock"N"Roll.
Check out the Underdog Album Trailer and see what is in store for you: Watch Trailer Here
Tickets are $15 Advance and $20 at the Door .
Those who have been given a pre-release copy of Don's UNDERDOG ALBUM which is also available in a long play record/vinyl format all agree:
"This Album is credible and sonically sound."
"The songs are compelling and make you think."
"Immediately this this guy's voice caught my attention, where has he been…"
"The strings are a great touch subtle - the real deal!"
"I can hear these songs in films."
"Don really strikes a chord with me."
"What a story - this guy is the real deal."