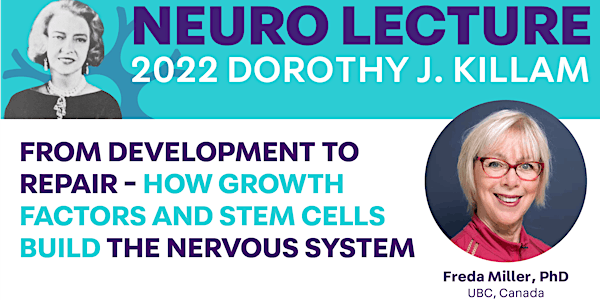 Dorothy J Killam Lecture
The Dorothy J. Killam Lecture was established in 2004 to recognize women of influence in business, science, politics or the humanities.
When and where
Location
Montreal Neurological Institute – Hospital 3801 Rue University Montréal, QC H3A 2B4 Canada
About this event
Speaker: Freda Miller, Professor, Michael Smith Laboratories
Dept. of Medical Genetics, UBC, Canada
Talk abstract: This lecture will focus on how growth factors and neural stem cells collaborate to build the mammalian brain and generate the right numbers and types of neurons and glial cells, and how this can go awry in response to genetic or environmental perturbations associated with neurodevelopmental disorders. This lecture will also describe how knowledge gained from these foundational studies can lead to brain repair strategies based on harnessing endogenous neural precursor cells in the human brain.
Speaker bio: Freda Miller is currently a Professor in the Michael Smith Laboratories and Department of Medical Genetics at the University of British Columbia. After obtaining her scientific training in Canada and the U.S., she held faculty positions at the University of Alberta, McGill and University of Toronto/Hospital for Sick Children prior to her recent move to Vancouver in 2020. She is best known for her studies of neural and dermal stem cells and for her work elucidating how growth factors regulate cell genesis, survival and growth in the nervous system. In recognition of this work, she is an elected fellow of the AAAS and the Royal Society of Canada, has won numerous awards including an HHMI Senior International Research Scholarship, and recently had an elementary school named for her in Calgary. Dr. Miller has also founded two biotechnology companies and has significant experience in scientific society leadership.