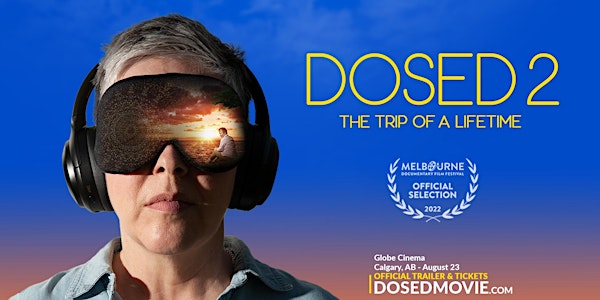 'DOSED 2: The Trip of a Lifetime' - ONE SHOW ONLY in Calgary with Q&A!
ONE SHOW ONLY - 'DOSED 2: The Trip of a Lifetime' + Calgary Screening with Q&A!
When and where
Location
Globe Cinema 617 8 Avenue Southwest Calgary, AB T2P 1H1 Canada
About this event
Documentary Synopsis:
Laurie, a terminally ill cancer patient and loving mother of four, is granted the right to legally use magic mushrooms to treat her end of life anxiety. She then embarks on a remarkable journey of personal transformation and healing while exploring lesser known possible cures for cancer, like cannabis oil. (Watch the trailer below)
One show only:
Doors: 6:30pm
Movie: 7:00pm
Audience Q&A: 8:25pm with Rita Bozi, Dr. Ravi Bains & Deirdre Young. Bios underneath the trailer below.
Many thanks to organizations like TheraPsil , The Medicinal Mushroom Dispensary, Filament and Numinus for being part of Laurie's inspiring journey. DOSED 2: The Trip of a Lifetime features: Dr Gabor Maté, Paul Stamets, Dennis McKenna, Dave Phillips, Sharan Sidhu, Ben Lightburn, Chino Julian, Garyth Moxey, Dr Rob Sealey, Dana Larsen, Tyler Chandler, Nicholas Meyers, and Laurie and Glenn Brooks.
The first DOSED documentary is available for rent now if you haven't seen it.
We are extremely excited to be back with another documentary about the healing power of psychedelic medicine. We hope you enjoy watching the film and engaging in a discussion afterwards with leaders in your local psychedelic community. Mush love 🌱🍄✨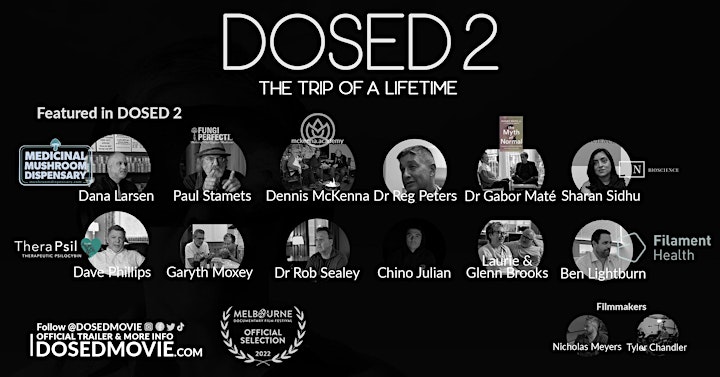 The wonderful panelists for the audience Q&A after the screening:
Rita Bozi is a multi-disciplinary Somatic Relational Trauma-informed Facilitator, Psychedelic Therapist, educator and author of When I Was Better. She is the director of Brilliant Healing Inc working with individuals, couples and groups leading unique, experiential and creative workshops and ceremonial journeys. She is a colleague of Dr Gabor Maté and was mentored by the late genius and visionary Carol-Anne Bickerstaff. She an advanced student of Sharon Stanley's Somatic Transformation model. Rita trains individuals in her 3 Module program: Somatic Relational Trauma-informed Practices for Psychedelic Assisted Therapy. She is the podcast co-host of PUNK Therapy: Psychedelic Underground Neural Kindness.
Dr. Ravi Bains earned a bachelor's degree in psychology prior to studying medicine at the University of Manitoba, his home province. He completed a psychiatric residency at Dalhousie University, where he went on to complete a fellowship in ISTDP (Intensive Short Term Dynamic Psychotherapy). Subsequent to graduating in 2006, he has practiced as an inpatient psychiatrist, as well as a psychotherapist. He has developed a passion for promoting body/mind/spirit health, "deprescribing", and working with trauma. Acutely aware of the limits of conventional psychiatry, he has also developed a strong interest in the potential of psychedelic medicines such as ketamine and psilocybin. He is currently CMO for ATMA Journey Centers, and had the privilege of being the first psychiatrist in Canada to legally conduct a psilocybin journey with a terminally ill patient.
For over 26 years Deirdre Young has been tending to people, their families, hearts and souls, in hospice, palliative and trauma care. Via Death Doula (before it was a course one could take), years of Ceremony, Somato-Shamanic, Relational & Therapeutic approaches she has witnessed the power and depth of care that is possible and needed in our dying time and what is needed well before and after. Deirdre's offerings are rooted in core shamanic practice, land-based ancestral teachings, ancient myths and lineages, pilgrimage experiences from 2013-2019, cosmic play, mediumship, specialized kinesiology and ceremony. Over the last 5 years Deirdre has also been including psychedelic integrating sessions to her offerings.
Dr. Lyle Galloway is a palliative care physician at Foothills Hospital and Tom Baker Cancer Centre in Calgary. He is the medical leader for the pain and palliative care consult service at TBCC and co-leads the Alberta Provincial Palliative Care team. He trained in psychedelic-assisted therapy and research with CIIS in 2019-20 and has been involved with most of the Alberta palliative patients who have been granted access to psilocybin through Health Canada.