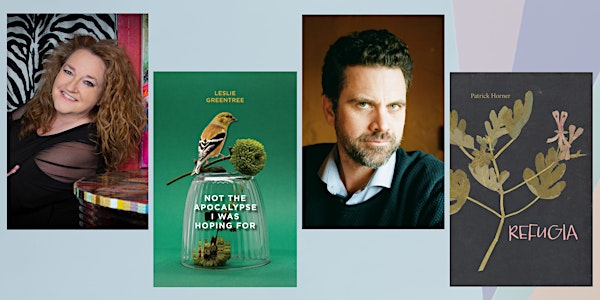 Double Book Launch: Leslie Greentree and Patrick Horner
Celebrate new books with Leslie Greentree and Patrick Horner!
When and where
Location
Shelf Life Books 1302 4 Street Southwest Calgary, AB T2R 0X8 Canada
About this event
Join Shelf Life Books and University of Calgary Press for the double book launch of Leslie Greentree's short story collection Not the Apocalypse I Was Hoping For and Patrick Horner's poetic novel Refugia.
If you'd like to attend, please register! We have limited capacity, so registration is recommended.
Though masks are voluntary, they are appreciated!
ABOUT NOT THE APOCALYPSE I WAS HOPING FOR
Award-winning author Leslie Greentree presents fourteen short stories in this dark, often funny, deeply compelling collection that asks how we locate, create, and avoid meaning in our lives. These are stories about people and relationships challenged by death and redeemed by art. Satirical, political, personal, and tender, they take us to funerals, protests, art galleries, to the dark side of the service industry, and through cities on fire.
An actress turns her terminal cancer diagnosis into an art installation; a boy's attempt at a practical joke derails his grandfather's funeral; a mother discovers she may care more for her sick dog than her newborn son; a man watches his dream of becoming a #hero burn with the city around him; a teacher befriends a gargoyle; a coalition of women fighting for bodily autonomy turn to the ultimate shock-performance protest.
Taking on the social collective, the performance of death, the political battleground, and the search for existential happiness with fearlessness and verve, Not the Apocalypse I Was Hoping For is full of sharp observation, irreverence, wit, and compassion.
ABOUT REFUGIA
A hallucinatory journey through scientific exploration and discovery that challenges the ways we conceptualize the environment and ourselves.
Relic species extinct everywhere else on the planet thrive on a remote archipelago. Evolution requires isolation, and these islands offer the perfect environment for genetic variation to take place, fostering new and unique forms of flora and fauna. Evolutionary biologists Emily and Roland have come on an extended field expedition to this secluded world, eager to expose its unique biosphere.
As they work to gather a large dataset of dead specimens for study and description, Emily and Roland experience growing shifts in their perception, in their bodies, and even in the flow of linear time. The environment they have come to quantify acts upon them, the species they collect observe and comment upon them, and the controlled lens of science cannot save them. Succumbing to the dynamic power of isolation, they find themselves irrevocably changed.
A poetic novel told through field notes, letters, and scientific data, Refugia is a story of discovery and transformation that shows the hubris inherent in the idea that humans live both outside, and at the center of, the natural world. This is a book that reveals science in all its imperfect beauty, crossing the line between observer and observed, scientist and subject, between what is known and what is unknowable.
ABOUT THE AUTHORS
Leslie Greentree is the author of the award-winning short story collection A Minor Planet for You. Her second book of poetry, go-go dancing for Elvis, was shortlisted for the Griffin Poetry Prize. Leslie co-wrote the play Oral Fixations with her life partner Blaine Newton, which was produced in 2014 by Ignition Theatre. She has won CBC literary competitions for poetry and fiction, and has been shortlisted for Writer's Guild of Alberta and Humber Creative Nonfiction awards.
Patrick Horner is a Canadian poet and engineer living in Copenhagen, Denmark, where he works to develop new water treatment technology. He co-wrote and co-produced Waste Dump, a serial radio play, and his poetry and fiction have been published in Wax, Dandelion, Broken Pencil, and more. Refugia is his first book of poetry.