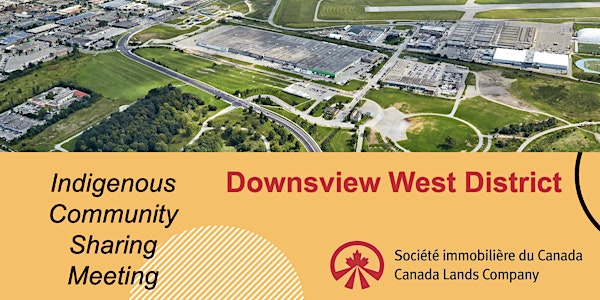 Downsview West District Indigenous Community Sharing Meeting
An Indigenous Community Sharing Meeting about the emerging Downsview West District. This event is exclusive to First Nation, Métis & Inuit.
About this event
Canada Lands Company is seeking input into the emerging vision of Downsview West, one of the first neighbourhoods that will be developed at Downsview. You are invited attend an Indigenous Community Sharing Meeting, held exclusively for First Nations, Métis and Inuit communities.
At this meeting, Canada Lands Company will present the opportunity that will shape the incredible potential of the Downsview West District, which is adjacent to Downsview Park, Downsview Park TTC and GO transit stations. Come and share your vision for new housing, parks, public spaces, services, shops and amenities. Contribute your ideas on how Downsview West can become a welcoming place for Indigenous people.
Details:
Downsview West Indigenous Community Sharing Meeting
Wednesday, December 14, 2022
6:30 p.m. - 8:30 p.m.
Virtual meeting via Zoom
Participants will be provided with a modest honorarium. All First Nations, Métis and Inuit are welcome.
Background
The Downsview West District is an emerging neighbourhood located within the Downsview Area Secondary Plan, bordered by Sheppard Avenue West to the west and north, the Barrie GO Train line to the east, and Carl Hall Road to the south. The City of Toronto is undertaking an update of this Secondary Plan through Update Downsview, which will update the previous 2011 Secondary Plan to reflect the upcoming relocation of Bombardier and new development opportunities.
The Indigenous Community Sharing Meeting will include:
A background presentation on the Downsview West District
Questions and answers from participants
Discussion and feedback into the emerging vision of the district
Who should attend?
Indigenous residents and community members in the Downsview area
Indigenous representative organizations who serve the Downsview area
Interested First Nations, Métis and Inuit communities