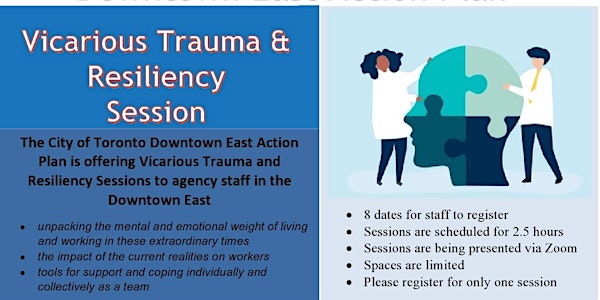 Downtown East - Vicarious Trauma & Vicarious Trauma Training for staff
The City of Toronto - Downtown East Action Plan is offering free Vicarious Trauma and Resiliency Training facilitated by Chris Leonard.
About this event
The Vicarious Trauma and Resiliency training will provide information on race, culture and trauma and a range of diverse responses; how they influence the way we see and respond when they show up at work. The sessions will also provide space for "Taking the Cork Out" and for intentional processing of the past seventeen months and recent tragic and traumatic events related to anti-Indigenous and anti-Black, anti-Muslim and anti-Asian racism and violence. These interactive sessions will include practical tools for coping and holding steady in this time of prolonged uncertainty, loss and change.
This training is being offered to agency staff providing services in the Downtown East. The Downtown East area is bounded by Bloor Street on the north, Front Street on the south, Bay Street on the west, and the Don Valley Parkway on the east.
If you have questions or need further assistance please contact Rolfe.Santos@toronto.ca
About the Facilitator - Chris Leonard
Chris Leonard brings extensive experience supporting communities and workers impacted by HIV/AIDS, opioid poisonings, gun violence, sexual violence, and other traumatic events. Her process facilitation and trainings are grounded in holistic, transformative justice, and restorative approaches that aims to build capacity in strengthening individual and collective well-being. Chris brings mindful awareness from her training as a Zen Shiatsu therapist into her work of holding space for grounding and intentional processing the weight of working in these extraordinary times.
Organizer of Downtown East - Vicarious Trauma & Vicarious Trauma Training for staff