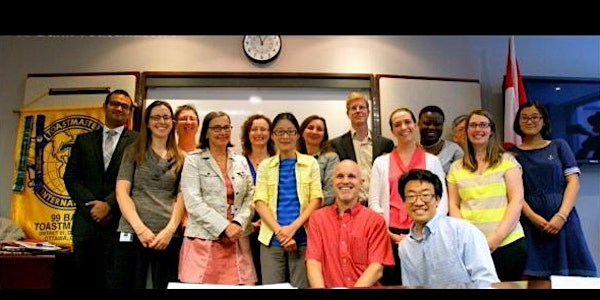 Downtown Ottawa Toastmasters - Zoom meeting
Nervous while speaking in front of a crowd? Want to build self-confidence and leadership skills? Join us as a guest at Downtown Ottawa TM!
About this event
Toastmasters International is a non-profit organization devoted to overcoming fear of public speaking and building your leadership skills.
Downtown Ottawa Toastmasters has been active for 28 years, helping scores of people become excellent speakers. Got shaky legs and a dry mouth before doing that big speech? Become a member, come to our weekly meetings and you can go from being a nervous speaker to someone who has fun giving presentations. You also develop the ability to speak off-the-cuff with little prep. Something that not many people are comfortable doing. The benefits from a personal and professional perspective are immeasurable.
Unsure? This is s FREE GUEST TICKET so you can experience a Toastmasters meeting live over Zoom.
The organizer will provide you with a link when you sign up.