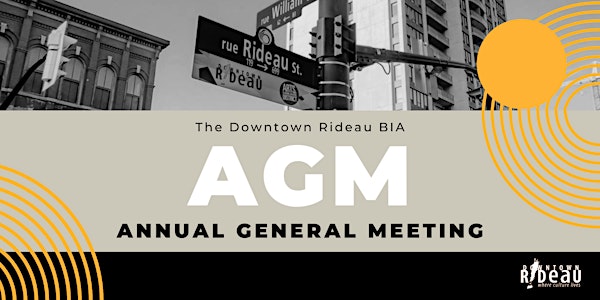 Downtown Rideau BIA Annual General Meeting
The Downtown Rideau BIA is hosting its Annual General Meeting on Tuesday, January 24th, 2023 from 6:00pm - 9:00pm at the Ottawa Art Gallery.
When and where
Location
Ottawa Art Gallery 50 Mackenzie King Bridge Ottawa, ON K1N 0C5 Canada
About this event
Our community's success is dependent on having a committed and engaged membership at all levels. Please join us and enjoy connecting with others operating a business in our great urban neighbourhood!
To RSVP please register for this event. Space is limited to two representatives per business.
Should you require any additional information, please contact colleengyori@downtownrideau.com.
Registration Deadline: January 13th, 2023.
Please note that only levy-paying members of the Downtown Rideau BIA are eligible to vote on motions or be a nominee in the election of the Board of Directors. Individuals representing member businesses and/or properties who are not owners, are required to submit a letter of attestation in order to vote or run in the election, and should be submitted via email to colleengyori@downtownrideau.com prior to the AGM. A letter template is provided in the invitation for your use. As per the Ontario Municipal Act, Section 403(4), membership is defined as properties or businesses who are assessed, on the last returned assessment roll, with respect to ratable property in the area.