Dr. Hanin Hannouch Guest Lecture on the Lippmann Process
Richard Neuhauss' Colour Photography: The Stuffed Parrot as the Test Object of the Lippmann Process
About this event
Guest Lecture by Dr. Hanin Hannouch, Ethnologisches Museum, Berlin State Museums, Prussian Cultural Heritage Foundation / Max-Planck, Kunsthistorisches Institut in Florenz.
My talk examines doctor of medicine and anthropologist Richard Neuhauss' (1855-1915) use of a stuffed superb parrot as the test object of the Lippmann process; the photographic technology relying on standing waves for the rendition of color, first disclosed in 1891 by Luxembourgian-French physicist Gabriel Lippmann (1845-1921). My research maps the use of stuffed animals in various color processes for testing the color sensitivity of emulsions as well as the photographer's own commitment to the image's genesis, focusing on this parrot as a colonial animal-object par excellence. Having photographed the parrot 300 times, I highlight the implications of Neuhauss' iconic image for the shifting relationship between color and nature within the rivalry between him and Hermann Wilhelm Vogel's three-colour printing technique. In doing so, I connect the entanglements of color photography and taxidermy in the history of science, media, and Empire.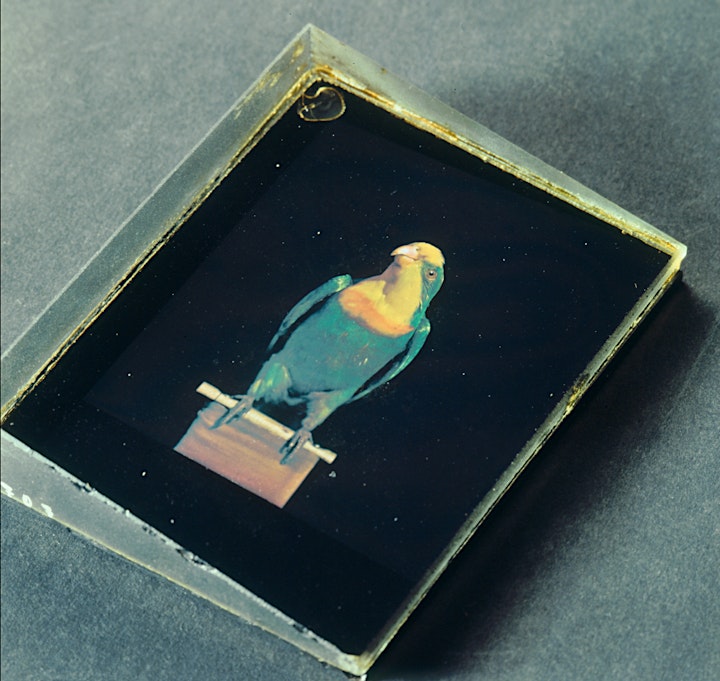 Hanin Hannouch is a postdoctoral researcher at the Ethnologisches Museum, Berlin State Museums (Prussian Cultural Heritage Foundation) in cooperation with the Max-Planck, Kunsthistorisches Institut in Florenz. Her projects on color photography ca.1900 are numerous: besides her monograph on color photography in Imperial Germany, currently in preparation, she is the volume editor of Gabriel Lippmann's Colour Photography: Science, Media, Museums with Amsterdam University Press (late 2021/early 2022) and the guest editor of another special issue dedicated entirely to three-color photography, out in April 2022. She was previously a postdoctoral researcher at the KHI's 4A Lab: Art Histories, Archaeologies, Anthropologies, Aesthetics and at the Berlin State Museums and international fellow at the German Maritime Museum: Leibniz Institute for Maritime History (DSM). She received her PhD from IMT Lucca, School for Advanced Studies (2017) with a dissertation titled Art History as Janus: Sergei Eisenstein on the Visual Arts after her International Masters in Art History and Museology (IMKM) at the Ecole du Louvre in Paris and the University of Heidelberg (2014), and another Masters (2012) and BA at Université Saint-Esprit de Kaslik.
Organizer of Dr. Hanin Hannouch Guest Lecture on the Lippmann Process
We develop original programming fulfilling our mandate to advance the knowledge of and interest in the histories of photography. I coordinate both our in-person and online guest lectures by Canadian and International Academics, Artists, Collectors, Conservators, Curators, Educators, Practitioners, Researchers, and Scholars.
The program runs on the third Wednesday of the month, ist 100% Free, and reservations may be made through our eventbrite pages.