The Value of Listening, the Power of the Ensemble, and the Complexity of Failure
About this event
Dear friends and colleagues,
We cordially invite you to attend our second event of the 2021-22 Music Education Colloquium Series: "The Value of Listening, the Power of the Ensemble, and the Complexity of Failure," a guest talk by Professor Kathleen Gallagher from the Ontario Institute for the Study of Education (OISE).
About the talk
Prof. Gallagher's talk, "The Value of Listening, the Power of the Ensemble, and the Complexity of Failure," will consider the role of failure in art-making by examining the story of a young theatre ensemble in a Toronto classroom and how they held, then re-presented, the story of their peer in a process of documentary theatre-making. Ethical questions of representation, of reception, of dis/abilities, and ensemble-building will be considered.
About Dr. Gallagher
Dr. Kathleen Gallagher is a Fellow of the Royal Society of Canada. She holds professional appointments at the U of T as a Distinguished Professor in the department of Curriculum, Teaching and Learning at the Ontario Institute for the Study of Education (OISE), and in the Centre for Drama, Theatre and Performance Studies.
Prof. Gallagher has held two Canada Research Chairs, she won two book awards from the American Education Research Association, and she has garnered over 7 million dollars in research funding. Moreover, Prof. Gallager won the inaugural University of Toronto President's Impact Award for research impact beyond the academy in 2017, and the David E. Hunt Award for Excellence in Graduate Teaching in 2018. She has been a Salzburg Seminar Fellow, as well.
Dr. Kathleen Gallagher engages in community-engaged scholarship focused on deepening our current understandings of youth and social inequality. Her research on how experiences of marginalization inform youth engagement with school and in society at large has provided policy and practice direction to a wide range of professional, practitioner, policy, governmental and non-governmental organizations and communities.
Prof. Gallagher uses theatre as a medium for young people's expression and a vehicle for representing their experiences and understandings to a broad public. In so doing, her work advances the methodological and pedagogical possibilities of theatre and poses the question of who research is for.
Suggested readings/viewing
Below is a selection of materials to learn more about Dr. Gallagher's work (reading/viewing these materials is not required to attend the event).
Kushnir, A., & Altorf, C. (Dirs.) (2019). Finding Radical Hope: Drama Class and the Activist Voice [film]. Drama Research.
This short documentary (20 minutes) offers the story of Dr. Gallagher's 5-year ethnographic study in drama-making spaces with 250 young people and 27 researchers across Taiwan, India, Greece, England and Canada. The research premiered at Crow's Theatre in 2019.
Gallagher, K., & Kushnir, A. (2020). The aesthetics of towards youth: Making relations in and through theatre. Theatre Research in Canada / Recherches théâtrales au Canada, 41(2), 204–220.
In this article, Prof. Gallagher and her playwright collaborator Andrew Kushnir give insight into the relationship between social science research and art in their Finding Radical Hope project. Also, the piece offers an interesting reflection on ethical and aesthetic questions related to documentary theatre and research.
Gallagher, K. (2021). Hope in a collapsing world: Youth, theatre, and listening as a political alternative. University of Toronto Press.
Coming out at the end of 2021 with UofT Press, Prof. Gallagher's most recent book offers an in-depth analysis of her Finding Radical Hope project. The volume contains the documentary script created from the research.
Event details
The event will take place both online and in-person in the Edward Johnson Building. Registration is required for COVID-19 contact-tracing purposes. Both a Zoom link and a room number will be provided upon registration. If you are not a current Faculty of Music, University of Toronto staff or student, we kindly ask that you participate online since the building is only accessible through a key fob. Light refreshments will be provided for in-person participants.
Our video-conference streaming will include auto-generated live captioning. If you require any additional accessibility accommodations, please, let Prof. González Ben know in advance so that we can arrange accordingly.
With best wishes,
Antía González Ben, Ph.D. (she & ella), Series Coordinator, a.gonzalezben@utoronto.ca
Esther Khew (she/her), Assistant Coordinator, esther.khew@mail.utoronto.ca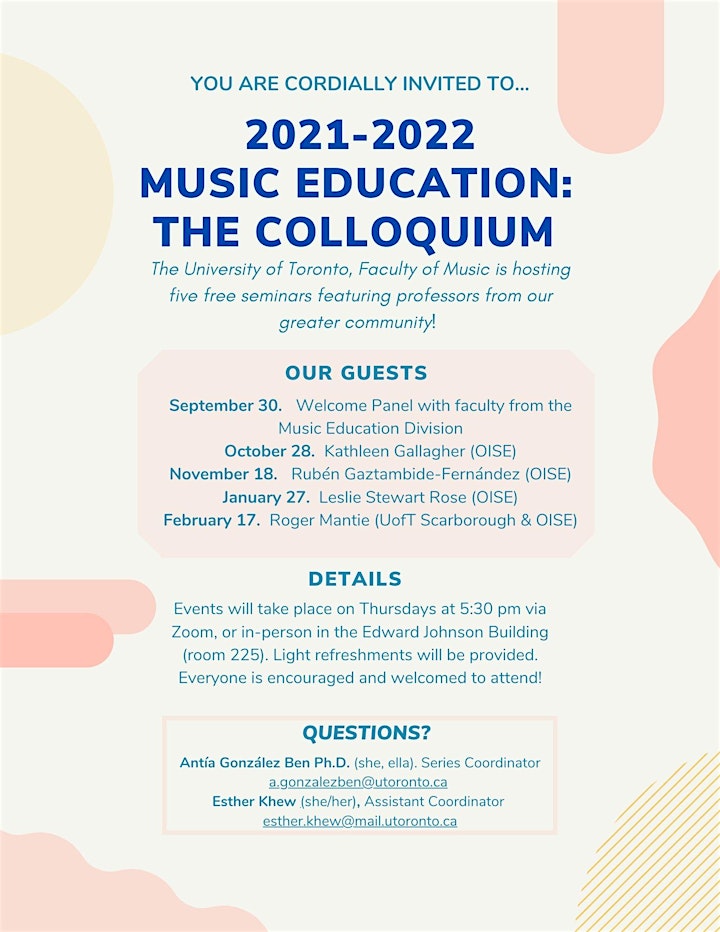 Organizer of Dr. Kathleen Gallagher
Hello, and welcome to our page!
The Music Education Colloquium seeks to offer free monthly professional development opportunities related to music, education, and music education. Each event features a different scholar or panel of scholars whose areas of expertise speak to the general topic of the series. Please follow our account to be alerted when we announce new events! Looking forward to hosting you in person or on Zoom.
Antía González Ben, Ph.D. (she/ella) and Esther Khew (she/her)