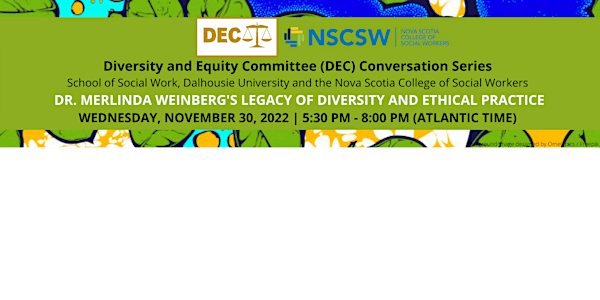 Dr. Merlinda Weinberg's Legacy of Diversity and Ethical Practice
Join us for conversations on Dr. Merlinda Weinberg's Legacy of Diversity and Ethical Practice within a Siyyum Jewish Celebration of Learning
About this event
The Diversity and Equity Committee (DEC) Conversation Series, School of Social Work in collaboration with the Nova Scotia College of Social Workers (NSCSW) offers an interactive Panel Discussion and Conversations on "Dr. Merlinda Weinberg's Legacy of Diversity and Ethical Practice." The event is a Siyyum Jewish Celebration of Learning scheduled for 5:30pm to 8:00pm (Atlantic Time) on Wednesday, November 30, 2022.
PANELLISTS:
Dr. Jan Fook, University of Vermont (USA): 'Talking about Racism'
Dr. Sarah Banks, Durham University (UK): 'Navigating the Rough Terrain of Ethics in Social Work'
Dr. Michelle Skop,, Wilfrid Laurier University (Canada): 'The Ethics of Socially Just Learning through Mentorship and Relational Accountability'
Cindy Knaptonr, Lotus Rising Trauma Therapy(Canada): 'Positionality and Ethics Put into Practice'
Dr. Merlinda Weinberg, Dalhousie University(Canada): 'Ethical Responsibilities Around Racism in the Helping Professions: Musings of a White Settler'
MODERATOR:
Dr. Judy MacDonald, Dalhousie University
Participants will also engage in discussions with panellists
EVERYONE IS WELCOME
VIA MICROSOFT TEAMS WEBINAR
DIRECT LINK TO EVENT:
https://teams.microsoft.com/l/meetup-join/19%3aPIkbPLH1v_-xwoQrKiYLMmfBgR0aBh7vE3oNYLr80Og1%40thread.tacv2/1666983205141?context=%7b%22Tid%22%3a%2260b81999-0b7f-412d-92a3-e17d8ae9e3e0%22%2c%22Oid%22%3a%22ab6911a9-7199-42c5-b0fe-fea402f20854%22%7d
With AI-generated Captions
Contact: Dr. Ifeyinwa Mbakogu, Chair of the Diversity and Equity Committee (DEC) sswdec@dal.ca
This event is brought to you by the Diversity and Equity Committee (DEC) of the School of Social Work, Dalhousie University.​
NOTE: The Diversity and Equity Committee (DEC) Events are not recorded to offer safe spaces for presenters and audiences to engage in critical discussions