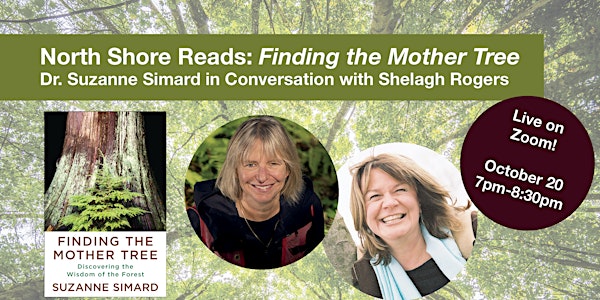 Dr. Suzanne Simard in Conversation with Shelagh Rogers
Dr. Suzanne Simard in Conversation with Shelagh Rogers
By North Shore Reads (North Shore, BC Libraries)
Date and time
Wed, Oct 20, 2021 7:00 PM - 8:30 PM PDT
About this event
In her first book, Finding the Mother Tree, UBC's Dr. Suzanne Simard brings us into her world, the intimate world of the trees, in which she brilliantly illuminates the fascinating and vital truths. She shares her amazing story of discovering the communication that exists between trees, and shares her own story of family and grief.
The North Shore libraries invite you to a heartfelt and dynamic conversation between Dr. Simard and CBC's Shelagh Rogers. The conversation will be followed by a Q&A session. The event will be held over Zoom and registration is required.
This event is brought to you by North Shore Reads, a collaboration between North Vancouver City Library, North Vancouver District Library, and West Vancouver Memorial Library.
Contact your library for more information about this event, as well as opportunities to read and discuss Dr. Simard's book prior to this wonderful event!
About Dr. Suzanne Simard:
Suzanne Simard is a Professor of Forest Ecology at the University of British Columbia and the author of the book, Finding the Mother Tree.
She is a pioneer on the frontier of plant communication and intelligence; and has been hailed as a scientist who conveys complex, technical ideas in a way that is dazzling and profound. Her work has influenced filmmakers (the Tree of Souls in James Cameron's Avatar) and her TED talks have been viewed by more than 10 million people worldwide.
Suzanne is known for her work on how trees interact and communicate using below-ground fungal networks, which has led to the recognition that forests have hub trees, or Mother Trees, which are large, highly connected trees that play an important role in the flow of information and resources in a forest. Her current research investigates how these complex relationships contribute to forest resiliency, adaptability and recovery and has far-reaching implications for how to manage and heal forests from human impacts, including climate change.
Suzanne has published over 200 peer-reviewed articles and presented at conferences around the world. She has communicated her work to a wide audience through interviews, documentary films and her TEDTalk "How trees talk to one another".
About Shelagh Rogers:
Shelagh Rogers is a veteran broadcast-journalist at the CBC, currently the host and a producer of The Next Chapter, a radio program devoted to writing in Canada.
In 2011, she was inducted as an Honorary Witness for the Truth and Reconciliation Commission. Also that year, she was inducted into the Order of Canada as an Officer, for promoting Canadian culture, adult literacy, mental health and truth and reconciliation. In 2016, she received the first-ever Margaret Trudeau Award for Mental Health Advocacy. She holds eight honorary doctorates. Shelagh is currently Chancellor of the University of Victoria.
100 years ago this year, her great-grandmother Edith Rogers was the first woman, and the first Métis woman, elected to the Manitoba Legislature. Shelagh is a member of the Métis Nation of Greater Victoria.