Location
Glad Day Bookshop
499 Church Street
Toronto, ON M4Y 2C6
Canada
Refund policy
Contact the organizer to request a refund.
Eventbrite's fee is nonrefundable.
The Best Drag Brunch in Toronto!
About this event
It's Canada's longest running DRAG BRUNCH with your favourite host Erin Brockobić!
It's Canada's longest running drag brunch! Every Sunday Erin Brockobić serves you more than you can handle and you eat it up! A different guest each week, delicious all-you-can-eat brunch brunch and a vibe you won't get anywhere else.
There are two seatings: 11am and 2pm. The 11am seating ends at 1pm so we have time to reset and sanitize the space for the 2pm seating.
For the 11am seating, the show starts at 11:30am.
For the 2pm seating, the show starts at 2:20pm.
The ticket cost includes our all-you-can-eat brunch and the show.
Your brunch choices are:
Scrambled Eggs [GF, VEG]
Vegan Tofu Scramble [GF, VEGAN]
Bacon [GF]
Sausage
Tofu Bacon [VEGAN]
Homefries [VEGAN]
Vegan Chili [VEGAN]
English Muffin [VEG]
Side of Fruit [GF, VEGAN]
Reservations are by table not per person.
However, we can put tables together; so if you purchase a table of 2 and a table of 3, we can make it a table of 5. There is no maximum number of people per table.
Seats at the bar are available but you may be sitting near someone you do not know.
If you have any special table requests, you can email: vip@gladday.ca
The cost per person before tax and tip is $29.19
You total cost will be $38.93
This includes 13% HST ($3.80)
and 18% tip ($5.94)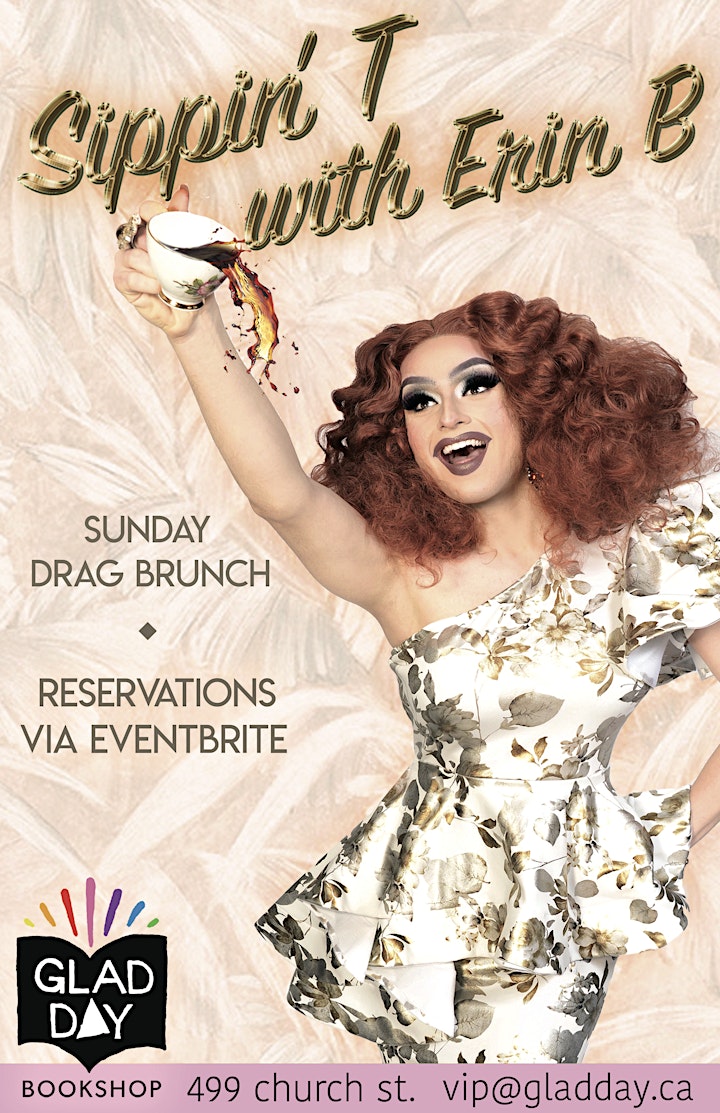 Our ventilation system brings outdoor air inside and does not recycle air BUT WE MAY STILL HAVE OUR LARGE WINDOWS OPEN DURING BRUNCH. This dramatically reduces the risk of COVID-19 transmission but it also means it could be cold so please dress warmly.
REFUND POLICY
The price of your ticket includes fees for the performers and tips for the staff. When customers ask for refunds less than 48 hours in advance, we hold back some funds so our hardworking staff and performers do not lose out on revenue. Part of your ticket cost is Eventbrite fees which you will need to still pay.
To get a refund on your order, you should request the refund through Eventbrite first. If you are having problems with this, you can email vip@gladday.ca .
If you request the refund 48 hours before the event begins, you will get a 100% refund, minus the Eventbrite fee.
If you request a refund less than 24-47 hours before the event begins, you will get a $25 refund, per seat.
We do not provide automatic refunds less than 24 hours before the event, but you can email vip@gladday.ca and we might make an exception.
We do not provide refunds for people who do not show up and message us after the event is finished.
If you need a refund because you or someone in your party has COVID, you will get a $30 refund, per seat if you request the refund via Eventbrite or email at least 2 hours before the event start time.