The Best Drag Brunch in Toronto!
About this event
It's the spectacle you love and the vibe you miss - but with health protections in place to keep all of us safe.
It's Canada's longest running drag brunch! Every Sunday Erin Brockobić serves you more than you can handle and you eat it up! A different guest each week, delicious all-you-can-eat brunch brunch and a vibe you won't get anywhere else.
There are two seatings: 11am and 2pm. The 11am seating ends at 1pm so we have time to sanitize the space for the 2pm seating.
For the 11am seating, the show starts at 11:30am.
For the 2pm seating, the show starts at 2:20pm.
The ticket cost includes our all-you-can-eat brunch and the show.
Your brunch choices are:
Scrambled Eggs [GF, VEG]
Vegan Tofu Scramble [GF, VEGAN]
Bacon [GF]
Sausage
Tofu Bacon [VEGAN]
Homefries [VEGAN]
Vegan Frank n Beans [VEGAN]
English Muffin [VEG]
Side of Fruit [GF, VEGAN]
To make sure that proper distancing is in place, you will reserve by table not per person.
However, we can put tables together; so if you purchase a table of 2 and a table of 3, we can make it a table of 5. The maximum number of people per table will be 10.
If you have any special table requests, you can email: vip@gladday.ca
The cost per person before tax and tip is $29.19
You total cost will be $38.93
This includes 13% HST ($3.80)
and 18% tip ($5.94)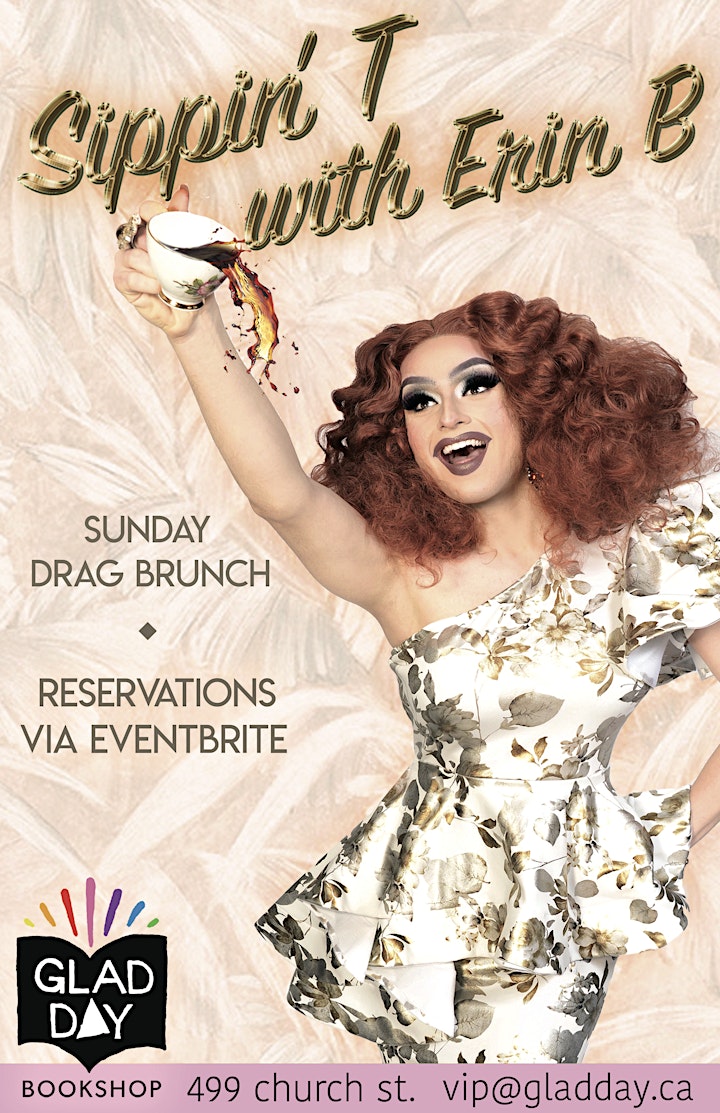 HEALTH AND SAFETY PROTOCOLS
At Glad Day we follow or exceed the health and safety protocols from Toronto Public Health. These protocols include, but are not limited to:
- Guests will be at least 2 meters apart from guests at another table
- Guests must remain seated, unless using the washroom
- Guests must wear a mask when not seated
- Guests can tip performers via debit/credit or placing cash in container we provide
- Guests are asked to refrain from excessive cheering and raising their voice during the performance. Guests can bring noisemakers in lieu of cheering.
- Music volume will be slightly lower than normal for a drag event
ALSO
Our ventilation system brings outdoor air inside and does not recycle air BUT WE WILL STILL HAVE OUR LARGE WINDOWS OPEN DURING BRUNCH. This dramatically reduces the risk of COVID-19 transmission but it also means it could be cold so please dress warmly.
Organizer of Drag Brunch at Glad Day with Erin Brockobić
Glad Day Bookshop is the first Canadian and the longest surviving queer bookstore worldwide. Serving the LGBTQ community since 1970, we specialize in offering the widest possible selection of lesbian, gay, bisexual, trans, two-spirit, and queer literature, both in and out of print.

Glad Day is also a BAR and RESTAURANT, with a wide array of craft beers on tap and a full menu specializing in comfort food and diner classics (including our celebrated SUNDAY DRAG BRUNCH).