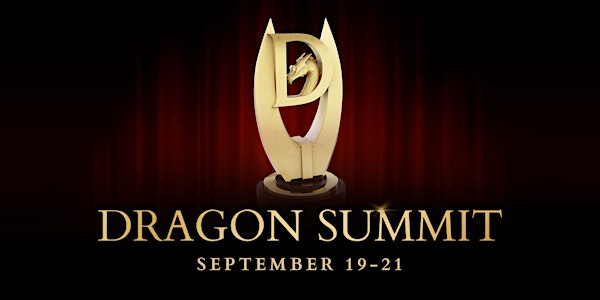 Dragon Summit 2023
Elite Business Conference Where 9-Figure Industry Leaders, and High-Net-Worth Investors Connect, Multiply Their Success and Positive Impact
Date and time
September 19 · 9am - September 21 · 6:30pm PDT
Location
The Vancouver Club 915 West Hastings Street Vancouver, BC V6C 1C6 Canada
About this event
2 days 9 hours

Mobile eTicket
Introducing The Prestigious & Exclusive Dragon Summit™: September 19th - 21st, 2023 in Vancouver, Canada
The Elite Business Conference Where 9 Figure Entrepreneurs, Industry Leaders, and High-Net-Worth Investors Connect, and Multiply Their Unparalleled Success and Positive Impact
We cordially invite you to attend the inaugural Dragon Summit™ to be held in Vancouver, Canada from September 19th to 21st, 2023.
But before you make this very important and potentially life-changing decision, which has every chance to short-cut your success…
Please continue reading below to discover exactly what the Dragon Summit™ is, how this experience will benefit you and your business/life, and why we've chosen the theme of Dragon.
Dragon 100™ is Dan Lok's elite business advisory board, comprised of thought leaders, experts, and visionaries looking to rapidly scale their businesses. It's the only advisory board in the world designed to accelerate your wealth and freedom, by transforming your business into a highly scalable and sustainable enterprise.
Our Members are Known as Dragons
They're high-level business owners, founders, and entrepreneurial CEOs, and they're far from your average business owner.
They're visionaries, competent business strategists, intelligent investors, and fierce leaders.
They dominate and/or shape industries, and are category Kings or Queens, and it's no surprise that not everyone is cut out to be a Dragon, as they simply don't possess the drive and commitment required.
With that said, Dan and every Dragon 100™ member want you to join them at our very first Dragon Summit™ in Vancouver, this October.
Why?
Because, they know professional success isn't only determined by WHAT you know, or WHO you know… it's also determined by WHO knows you.
And if you're approved to join us at the Dragon Summit™, you'll get access to a "who's who" of extraordinary achievers in the high ticket business, investment, and venture capital world.
FAIR WARNING: The Dragon Summit™ is STRICTLY LIMITED to 150 attendees ONLY, and given the Dragon 100™ members are likely to occupy 100 of those seats, there may be at most 50 seats available.
What Makes The Dragon Summit So Unique?
As you can probably tell, The Dragon Summit™ is no ordinary event.
It's Dan Lok's premier and exclusive business event, you must be approved to attend.
If you're approved, you'll connect with and leverage the knowledge and expertise of the note-worthy, prominent, and high-status individuals in attendance.
IT'S NO SECRET: One of the MOST IMPORTANT elements of success is finding and connecting with like-minded and high-level individuals, or highly successful industry leaders who are where you aspire to be.
You'll make connections with business owners passionate about helping you elevate to new heights, and who also have the potential to add hundreds of thousands of dollars or even millions to your bottom line.
You could meet your next JV partner or a high-caliber investor who has the ideal multi-million dollar opportunity for you.
You'll leave the Dragon Summit™ with high-level strategies from industry leaders, investors, wealth creators, and business owners at the top of their game, that will expand your mind to infinite possibilities.
BOTTOM LINE: You'll make high-value connections you almost certainly wouldn't make on your own… and you'll walk away COMPLETELY TRANSFORMED and EXPANDED, armed with ground-breaking business strategies, and a new set of high-level associates.
In addition to the extraordinary attendees, you'll also gain exclusive access to mind-blowing presentations by 9 and 10-figure entrepreneurs, who just so happen to be some of Dan's closest friends.
Dan Lok
Your host, Dan Lok is a globally respected entrepreneur mentor, and one of the world's most watched, followed, and quoted social media influencers with over tens of million followers across his brands.
Dan has been featured in Entrepreneur, Forbes, Money, Business Insider, Tedx, and on major television networks.
He is the managing partner of DragonX Capital, a venture capital firm that invests in seed and early-stage companies outside of Silicon Valley.
Dan is one of the most recognized entrepreneur mentors in the world, having built a $100+ million coaching + consulting enterprise.
Today, Dan chairs Dragon 100™, the premier advisory group for entrepreneurs generating 7 and 8-figure revenues.
Featuring Dragon's Den Star
Michele Romanow
Named as one of Forbes's Top 20 most Disruptive "Millenials on a Mission" in 2013, Michele, has achieved a lot for someone so young.
She's a tech entrepreneur, television personality, board director, and venture capitalist. Her co-founded company Clearbanc, provides revenue-sharing solutions to fund new online businesses, and other e-businesses. She made the list of the top 100 Most Powerful Women in Canada in 2015.
In 2018, she was named Canadian Innovation Awards Angel Investor of the year and joined the cast of Dragon's Den in Season 10.
Harmel S. Rayat
If anyone can teach you about building a real estate empire, it's Harmel S. Rayat. Harmel invested $20 million in 2006 and has since acquired 500,000 square feet of esteemed commercial real estate throughout North America. In 8 short years, he grew his real estate portfolio to $145 million and generates a return on equity of 35% per annum.
He is the president and CEO of the privately held commercial real estate and investment firm Talia Jevan Properties. Talia Jevan specializes in the acquisition and long-term ownership of Class-A commercial real estate assets throughout North America.
Ivan Nikkhoo
With an extensive background in venture capital, private equity, and sales & marketing, Ivan also brings with him over 36 years of experience in software and Saas, eCommerce, marketplaces, and platforms.
He's a regular host of a series of Tech CEO dinners in several cities around the world, which bring together CEOs, financial sponsors, PEGs, and industry executives to discuss the latest business trends and developments.
Nikkhoo is the advisor to numerous Saas companies, the president of Vertex Systems, a Professor at the USC Marshall School of Business, serves on numerous corporate, business, & charity boards, the founder & managing partner of N3 Capital, and he's highly experienced in raising growth capital & tech exits.
Jayson Waller
Jayson Waller has built and scaled three businesses from scratch into multimillion dollar enterprises, with his most recent entity, Pink Energy, earning a billion-dollar valuation in 2021. His two decades of experience and knowledge of sales and marketing, raising venture capital, contract negotiations, data analysis and more helped him grow Pink Energy from a business that did $3 million in revenue with 15 employees in its first year in 2015 to nearly $600 million with more than 2,100 employees in 2021.
The most prominent honor was Waller's company earning Inc. 5000 recognition as one of America's fastest-growing companies five times in the last six years. Personally, Waller was named a member of the 2021 Detroit 500, a list of the most powerful executives in southeastern Michigan, and also was named Corp Magazine's Entrepreneur of the Year in the same year. He's been honored as Entrepreneur of the Year by the American Business Awards (Stevies), Globees 4 times.
Stanton Williams
CEOs are fearful that their company's future could be constrained by the inability to identify the right talent to fuel growth. With the onset of the pandemic and The Great Resignation, hiring, retaining talent & reducing employee turnover are crucial to survival & growth.
Driving growth is more than measuring profit & expense. It's about people. If people don't give 100%, your business won't perform at 100%.
Stanton Williams is a Senior Executive Advisor, who helps CEO's transform & scale their businesses using applied analytics to drive revenue, profit, & maximize their organizations using your most precious asset – people.
Stanton from a young age always had a knack for sales and leadership. He's been the CEO, President, and VP of Sales throughout his career. As a leader, he's led and managed over 500+ people in the technology and service industries. Today, he works with over 100 CEO's globally using his 30+ years of proven executive know-how to coach, lead and challenge these CEOs to optimal performance.
Christopher Kai
Inc. has said he is "The Billionaire Networker," he wrote a #1 international bestselling book called "Big Game Hunting: Networking with Billionaires, Executives and Celebrities" and he convinced billionaire Elon Musk, the richest man in the world, for an exclusive sit-down interview where Elon exclaimed, "Wow! You really know a lot."
Christopher Kai is a Fortune 100 global speaker and has shared the stage with President Clinton, Bill Gates, Richard Branson and 1,000s of other global leaders. He is also the founder of GPS, a private global membership and online speaker training program where Forbes has said, "helps entrepreneurs become professional speakers."
Their speaker community is in 120 cities, 30 countries, and 6 continents. He has helped his corporate and online clients generate $200M+ in revenue. His 7th and newest book is called the "Wizard of Words: The 7 Magical Words for Your Success."
Sharran Srivatsaa
Back for his second Dragon Summit™ appearance, Sharran is widely known as the "King of Scaling Businesses". He is a former Goldman Sachs and Credit Suisse banker turned real estate mogul, who grew Teles Properties by 10x in 5 years to $3.5 Billion in sales.
He's a sought-after keynote speaker, angel investor, and mentor to CEOs in his ultra-exclusive 'Legends Program', as well as a 4x Inc. 500 Entrepreneur with 5 exits in the last 19 years.
He's the host of the top-rated podcast 'Business School', and the creator of the 5 am club for entrepreneurs, which continues to grow in popularity. He contributes to publications such as The Wall Street Journal, Huffington Post, Forbes, and SUCCESS magazine.
Sharran is a Principal at Srilo Ventures, a multi-factor private investment fund focusing on investing in and advising tech companies operating businesses in the consumer space, and that's barely scratching the surface of his ventures and achievements.
Previous Speakers Include
Brian Scudamore
Brian is the CEO and founder of O2E Brands, which is the parent company of the $500 million company 1-800-GOT-JUNK?, WOW 1 DAY PAINTING, and Shack Shine.
Receiving wide recognition in the media and the business community, Brian has been featured on Undercover Boss Canada, Dr. Oz, Dr. Phil, CNN, ABC Nightline, the Today Show, The Hour with George Stroumboulopoulos, and the View.
In addition to being a serial entrepreneur, Brian is also a public speaker and a regular contributor to Forbes and PROFIT magazines, where he shares his vast knowledge of small business ownership, franchising, and building corporate culture.
Is the Dragon Summit™ For You?
Even though the investment is a high enough barrier in and of itself, seating is strictly limited to 150. This is why attending the Dragon Summit™ comes with a strict application process.
REALITY CHECK: The PRIVATE INVITATION you're reading now is NOT for the majority of people who apply. The truth is, most who apply will not be accepted, as we expect hundreds of applications for the 10 or so seats we'll have left after our Dragon 100™ members secure their spots.
We do this to protect the integrity and culture of our global movement and community.
With that said, the Dragon Summit™ will be ideal for you if you're:
An influential visionary who champions new innovative strategies…
An intelligent investor who takes "calculated" risks…
A high-level and committed CEO or business owner who has "Execution Intelligence"...
A niche "disrupter" looking to make a difference…
Or a ruthlessly compassionate leader who enjoys growing teams.
So, if you believe the Dragon Summit™ sounds like the experience you're searching for, where you can surround yourself with high-status, and high-level individuals…
Who push you to elevate your knowledge, business, and impact, then we urge you to fill out an application to see if you qualify.
September 19th - 21st, 2023, The Vancouver Club, Vancouver, Canada
About the organizer
People call Dan Lok the "King of High Ticket".
Dan Lok is a globally respected entrepreneur mentor, and one of the world's most watched, followed, and quoted social media influencers with over 9 million followers across his brands. (3+ million fans on Facebook, 4+ million YouTube subscribers, and 2+ million Instagram fans).