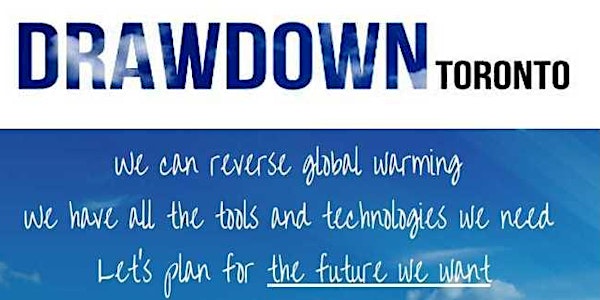 Drawdown Intro
When and where
Location
75 Pergola Rd Martin Grove Church Toronto, ON M9W 5K4 Canada
Description
Join us Saturday July 27 from 1 to 3 p.m. at Martin Grove United Church to find out how you can get involved. Hosted by Charlene Day and David Burman of DrawdownTO.
Are you feeling overwhelmed by the constant stream of stories about Climate Change (aka Global Warming) that imply there's little we can do about it, or that it's not really happening? Are you feeling despair that the proposed solutions are too little and too late? Having pangs of guilt that you aren't doing more?
Well there is a research-based project underway to actually reverse global warming - to pull carbon out of the atmosphere, as opposed to merely slowing down the rate of emissions. It is not only possible, but feasible and eminently practical. The graphic record above, from the first introduction session on January 31st, gives you an idea of the energy and enthusiasm of the 140 participants, and offers a sense of the possibilities for effective action.
Come and find out what you can do to help reverse global warming!
This very interactive program will present an inspiring, uplifting and empowering approach to the issue, based on the latest research from a team of over 200 scientists and researchers from around the world.
Project Drawdown, founded by author and environmentalist, Paul Hawken, is a scientifically based, comprehensive plan to implement the top 80 solutions to reverse global warming by 2050. The book sets out the solutions, the math and the economics of how we can do this. It's inspirational and accessible.
Location: Martin Grove United Church
75 Pergola Road (intersection of Martin Grove Road and Westhumber Blvd)
The church is "on" Martin Grove, but the driveway is on Pergola Road. To get to the parking lot go west on Mercury (which is directly opposite Westhumber) and south on Pergola.
TTC Bus 46 from Kipling Subway.
TTC Buses 96/996 from Wilson Subway.
To check out the location online go to: mguc.ca Lots of parking, and air conditioning. Enter using main doors on the South side of the building.
Time: Saturday July 27 1-3 p.m.
By donation.