Join us in Lloydminster as we dive into the realm of Dream Interpretation.
About this event
We are living in a time where God is broadening the church's understanding in how He speaks through dreams. He is equipping His people by increasing our revelation of His language to us in the night season.
Dream Interpretation 101 was developed to train and equip the church to understand God's language through dreams.
In this one day intensive school, topics will be covered such as, "How dreams are Biblical," "How to see our dream lives increase," as well as, "The different types of dreams we can have" and "What colours, numbers and symbols can mean in our dreams."
Luc Niebergall has seen many activated and trained to understand God's voice through dreams. Through this class, attendees have received an increase in their dream lives, freedom from tormenting dreams, healing from sleep disorders, as well as insight to what God is declaring in the night season.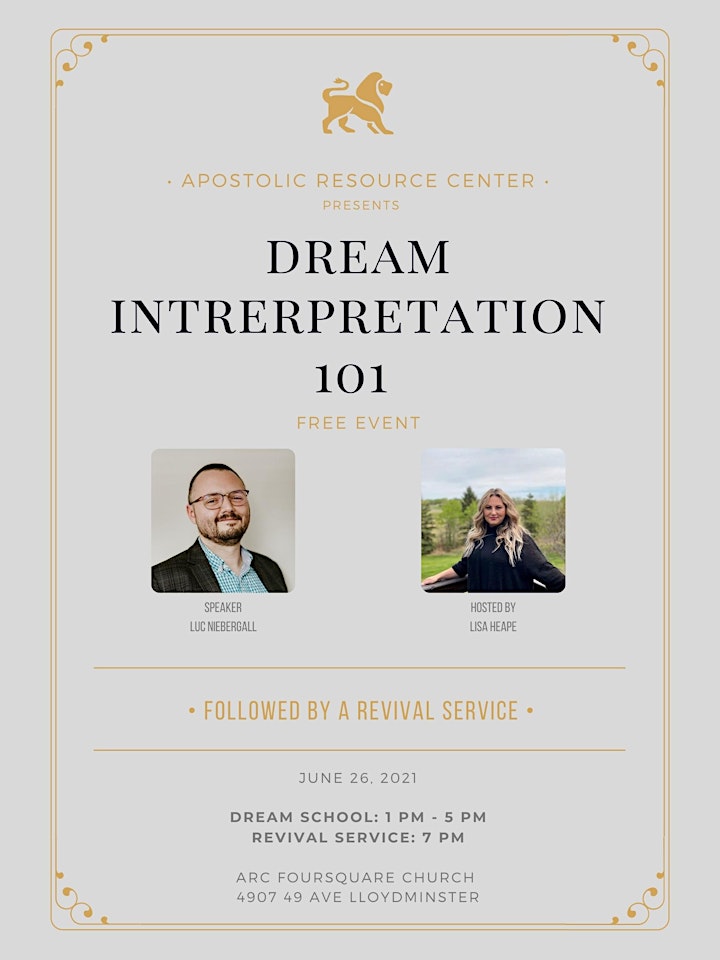 Organizer of Dream Interpretation 101
Royal Identity Ministries has a heart to train and equip the global church to see a sustained move of God across the earth. We have a desire to raise up leaders throughout the nations to see the kingdom of God manifested in the spheres of influence where they are called. As a ministry, we believe that no one is disqualified from the things of God, but that everyone is a leader in the kingdom of heaven. We therefore believe that everyone can be activated to live a life like Jesus lived while He walked the earth. Our heart as a ministry is to train the church to passionately love God and people. Since this is our desire, we do extensive training in how to walk out a lifestyle of intimacy with God and how to cultivate a lifestyle of walking in our kingdom identity. We also have a high focus on training and equipping in the prophetic ministry and how to move in miracles, signs and wonders; so that everyone who is trained under our ministry can become a vessel for the love of God to transform lives through.