DREAMS 2 REALITY PT2 & Launching of Real people Real Testimonies of the Pow...
Description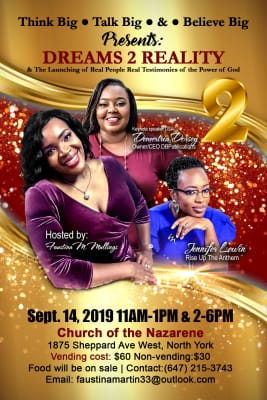 Dreams 2 Reality is a yearly event that is conducted by Faustina M. Mullings every September. This year we are going to focus on 2 segments:
1. The first part of the event consists the launching of Real People Real Testimonies of the Power of God - where you will be hearing some incredible stories by individuals who God has changed their lives drastically in a short space of time.

2. The second segment will be Dreams 2 Reality part 2 - Dreams 2 Reality is a program designed specifically to push, empower, and encourage individuals to come out of their comfort zone.
Keynote speaker is Demetria Dorsey Owner/Founder of BPUBLICATIONS USA.
Come and be transformed, renewed, inspired, and ready to shift the trajectory of your life.
YOU DON'T WANT TO MISS!!!
Accepting: ETRANSFER ONLY
To
faustinamartin33@outlook.com
Vendors friendly SPOTS ARE (LIMITED)
Price:$60
Vendors will have at least 2 minutes to present there business.
Non-Vending: $30 early birds tickets are $25 last until July 1 ,2019
NO REFUND!