Celebrate the stories that connect us at The Word On The Street Toronto's 2021 virtual festival of storytelling, ideas and imagination.
About this event
The Word On The Street presents Dreams of Home: Stories of Community & Connection
Home is a tender topic for many. Join these authors as they discuss the ways home shows up in their writing: how do changes to our home change us in turn? What do we do when our homes change in a way that threatens how we relate to them? Is it possible to carry home with us? What even is a home: a place, a people, a feeling?
This panel will stream live Tuesday, September 21 at 5pm ET.
Panelists
Uzma Jalaluddin grew up in a diverse suburb of Toronto, but her favourite place in the world is the nearest bookstore or library. Her debut novel, AYESHA AT LAST (2018), is a retelling of Pride and Prejudice set in the Toronto Muslim community. The novel was a Goodreads Choice Award Finalist, featured on The Today Show, and was a Cosmopolitan UK Book of the Year and Publisher's Weekly Best Book of 2019. AYESHA AT LAST was optioned for film by Pascal Pictures and is currently in development.
Louisa Onomé is a Nigerian-Canadian writer of books for teens and adults. She holds a BA in professional writing, a MA in counselling psychology, and is represented by Claire Friedman at InkWell Management. A part of the Author Mentor Match round 3 cohort, she is also a writing mentor and all-around cheerleader for diverse works and writers. When she is not writing, her hobbies include picking up languages she may never use, crying over her favourite video games, and perfecting her skincare routine. She currently resides in the Toronto area.
Sarah Suk (pronounced like soup with a K) lives in Vancouver, Canada where she writes stories and admires mountains. When she's not writing, you can find her hanging out by the water, taking film photos, or eating a bowl of bingsu. Made in Korea is her first novel. You can visit her online at sarahsuk.com and on Twitter and Instagram @sarahaelisuk.
Danny Ramadan is a Syrian-Canadian author and LGBTQ-refugees advocate. His debut novel, The Clothesline Swing, won multiple awards. His children's book Salma the Syrian Chef, continues to receive accolades. Both books were translated to multiple languages. His short stories and essays appeared in publications across North America and Europe. Ramadan's forthcoming novel, The Foghorn Echoes (2022), and his memoir, Crooked Teeth (2024), to be released by Penguin Random House. Through his fundraising efforts, Ramadan raised over $200,000 for Syrian LGBTQ+ identifying refugees. Ramadan graduated from UBC with an MFA in Creative Writing, and lives in Vancouver with his husband, Matthew Ramadan.
Shop local! Purchase books by WOTS2021 featured authors through local independent bookstores on our official bookseller page.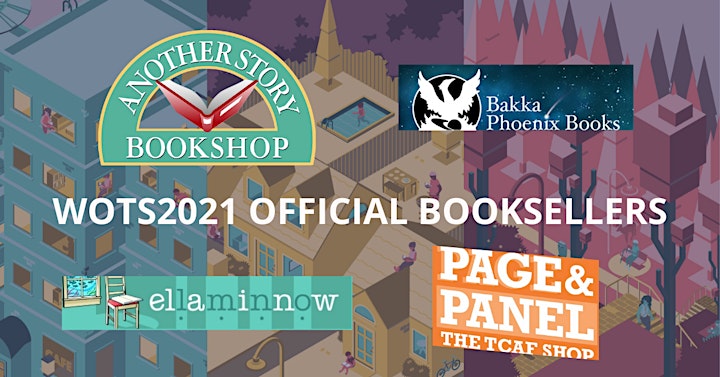 About the Festival
For 32 years, The Word On The Street has been a gathering place for authors, publishers, booksellers, and readers of all ages to celebrate the stories that connect us.
We're staying virtual for WOTS2021, so you can tune in from wherever you are to enjoy incredible programming with 100+ authors presented over 10 days from September 16th to 26th, featuring bestselling Canadian and Indigenous authors like Eden Robinson, Andre Alexis, Zoe Whittall, and Richard Van Camp.
Get insight into the year's top issues through a literary lens, with readings and panels on topics like climate change, decolonization, and how we care for one another. Poetry, memoir, mystery & more, WOTS2021 has the books you've been looking for.
Visit the 2021 Festival Homepage!
You can also subscribe to our YouTube channel for a preview of what to expect during the WOTS2021 festival, and watch (or re-watch) our year-round City Imagines and Book Talk series.
Become a Patron of The Word On The Street
We are very grateful to our vibrant and generous community for your continued support throughout this challenging period for live events. If you'd like to contribute financially, you can add a donation to your registration or visit our CanadaHelps fundraising page to learn more about how you can help to sustain Toronto's favourite book festival.
We also appreciate your support in the form of kind messages for our small-but-mighty team and helping us spread the word on social media!
On COVID-19 & In-Person Events
For the second time ever, WOTS2021 will be held virtually with programming hosted on our website and streamed live on YouTube. But that's not all! We're also collaborating with local authors and bookstore partners to offer a limited number of socially-distanced book signings. Check out the Bookstore Signing Schedule for more details on who might be coming to your neighbourhood.
If you're most familiar with our offline offerings: Hi! We miss you, and hope you are well!
Our team is doing the best we can to ensure the health and safety of our community, especially for vulnerable and younger readers who don't yet have access to a vaccine.
Staying virtual has given our team the opportunity to re-think how we can best honour our mandate as champions of literacy, and we can't wait to share our exciting news about the future of WOTS with you this September!

The Word On The Street is an annual celebration of storytelling, ideas and imagination, hosting Canada's largest FREE book and magazine festival annually since 1990 and promoting great books by Canadian and Indigenous authors year-round.
Organizer of Dreams of Home: Stories of Community & Connection