Drive Electric Victoria (part of National Drive Electric Week)
Location
University of Victoria
McGill Road near Ring Road, Lot 4
Victoria, BC V8P 5C2
Canada
Description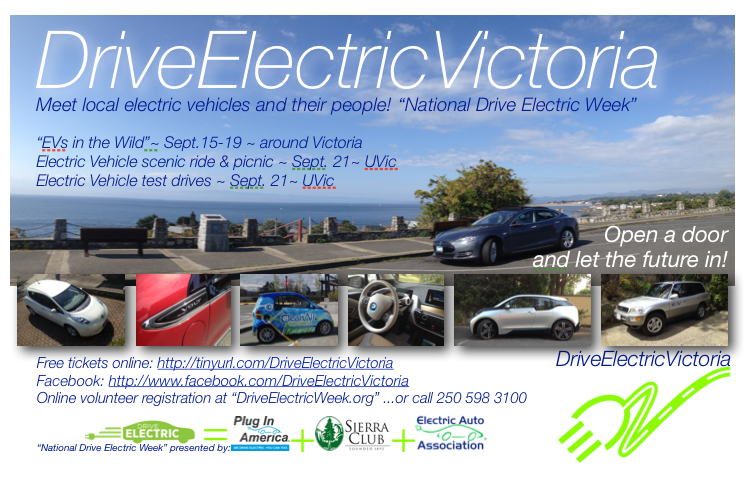 Experience EVs on two levels:
1. "GreenTourismo" Sign in at 10:00am~10:30 departure~registered guests will go as passengers on a scenic tour in an EV driven by an owner/volunteer, (UVic to a nearby scenic location and back.) Registered guests, please be at UVic's Lot 4 by 10:00am Sunday, Sept. 21 to sign in.
2. "Driving Electric" Sign in at 11:30am~12:00 start~registered guests (age 25up w/valid driver's license) will get to test drive EVs with the owners. WARNING! EV test drives often turn ordinary motorists into EV fanatics. Not all EVs displayed on Sunday will be available for test drives. All Test Drive guests must be pre-registered before signing in for each drive, bring your free Event Ticket, driver's license and other I.D. to UVic's Lot 4 by 11:30am Sunday, Sept. 21.
Also on Sunday!
• Electric vehicles on display
• Draw for fun prizes!
• Guest speaker address: Personal, local and global benefits of driving electric
• Picnic lunch/Live music: for our registered guests
https://driveelectricweek.org/event.php?eventid=234