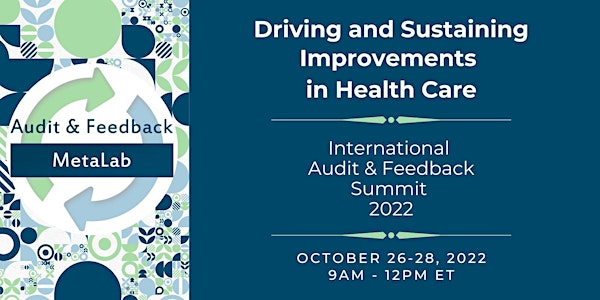 Driving and Sustaining Improvements in Health Care | A&F Summit
Driving and Sustaining Improvements in Health Care | Audit & Feedback MetaLab Conference 2022
About this event
This free registration includes all three days.
Please see the conference program below.
Join us for the International Audit & Feedback MetaLab Conference 2022. This year's theme is Driving and Sustaining Improvements in Health Care. We will hear from international and multidisciplinary experts in audit and feedback and improvement in healthcare.
Happening October 26-28 from 9am - 12pm ET each day, the conference agenda will include sessions on the updated Cochrane audit and feedback systematic review, theory building, spread and scale and presentations on audit and feedback work from different countries.
This event will be of interest to researchers, healthcare staff, health data scientists, those using audit and feedback and anyone working in quality improvement or improvement science.
This event is hosted by The Audit & Feedback MetaLab. More details about The Audit & Feedback MetaLab can be found here.