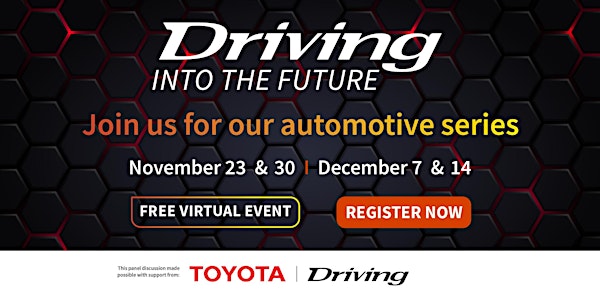 Driving into the Future
Virtual Event Series
About this event
Driving into the Future brings together automotive experts to discuss what's new in the automotive industry.
WEDNESDAY, DECEMBER 14 @ 11 AM ET
IS CHANGING INFRASTRUCTURE THE LAST ROADBLOCK FOR EV DOMINATION?
Are charging stations the final roadblock to an EV takeover? Can we build chargers fast enough to meet demands of rising EV sales?
Ramy Azar, Ph.D., Vice President and Market Lead - Power Grids, SNC-Lavalin
Tallis Blalack, Ph.D.,Managing Director, ASPIRE
Claudio Cañizares, Ph. D., P. Eng.,Professor,University of Waterloo
Brian Kingston,President and Chief Executive Officer, Canadian Vehicle Manufacturers' Association
Moderator: David Booth, Senior Writer, Driving
PREVIOUS PANELS
WEDNESDAY, NOVEMBER 23
2023 New Vehicle Preview
WEDNESDAY, NOVEMBER 30
CAN CANADA BECOME AN EV SUPERPOWER?
WEDNESDAY, DECEMBER 7
WILL SWITCHING TO AN EV REALLY SAVE YOU MONEY?
This panel discussion made possible with support from: